By implementing Tipalti's innovative software, businesses can revolutionize their purchase order (PO) process, effortlessly streamlining and automating their operations. Gone are the days of tedious manual purchasing workflows, as Tipalti empowers companies to achieve unparalleled efficiency and accuracy.
With its user-friendly interface and cutting-edge technology, Tipalti ensures that every step of the purchasing process is seamless and error-free. Say goodbye to time-consuming paperwork and hello to a more streamlined and productive workflow. Trust Tipalti to take your business to new heights of success.
Pre-Approve Spending without Delay
Provide requestors with a centralized platform to submit and monitor purchases, as well as fulfill new vendor requests. This enables you to participate in the process at an early stage rather than waiting until the invoice stage.
Eliminated Manual PO Data Entry with NetSuite's Automated PO Generation
Make it easy for employees to code purchase order data upfront. Once a request is approved, it will automatically be generated in NetSuite—freeing your team from tedious and error-prone manual entry.
Use Real-Time Visibility to Make Decisions Easier
Avoid any surprises with invoices and keep a close eye on requests, orders, and receipts to pinpoint any areas causing delays. Gain instant access to both current and past spending data, allowing for better planning and forecasting.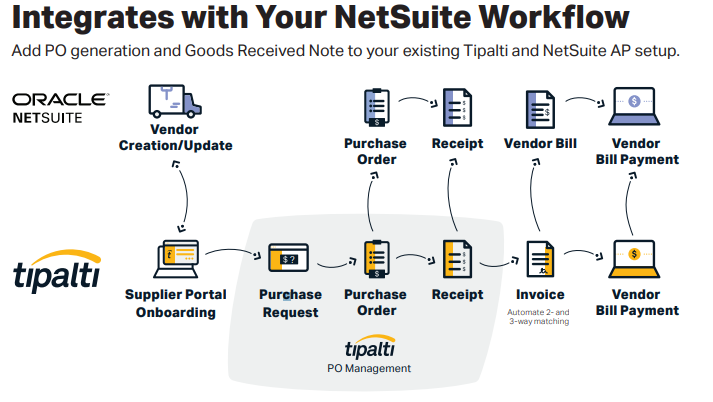 To add to the benefits listed above, Tipalti gives businesses access to these features and more:
Customizable and Flexible Forms: Easily set up forms to capture the data you need
Rule-Based Approval Routing: Tailor automated approval routing to your specific spending policies
Real-Time Budget Control: Display budget consumption status to relevant stakeholders
Multi-Entity Support: Support requests in any currency and set up entity-specific policies
Inline Collaboration Tools: Let stakeholders communicate and write notes on requests
3-Way PO Matching: Empower and notify requesters to confirm goods/services received
Full Activity Log and Audit Trail: Access a log of all stakeholder activity—documented on every purchase
Slack and Email Approvals and Reminders: Allow stakeholders to receive notifications and take action via Slack and email
Contract Repository: Attach contracts to vendors for easy access and set renewal reminders
Parallel Supplier Approval Workflows: Run parallel purchase request and new supplier approvals processes, allowing a thorough supplier review process
Reach out to AccountingDepartment.com today to learn more about how our client accounting services, paired with Tipalti's Expense integrations, can help you and your business.