Imagine having the ability to scale accounts payables (AP) operations for your e-commerce business, with the same amount of staff, or even less. With Tipalti's AP automation technology, businesses can do just that and accelerate their AP processes across the board.
When businesses enlist the help of AccountingDepartment.com's client accounting services, they have the flexibility of choosing from among many different accounting technology applications, Tipalti being one of them.
As a business grows, the AP workload will increase significantly. Managing and staying on top of invoices and vendor payments can certainly become overwhelming at times, let alone if they are handled manually or with an outdated system in place.
In the e-commerce world, it's important for businesses to keep up with payables to keep vendor relationships in good standing. Without having to add more AP staff, businesses are finding themselves able to manage increases in invoices when using Tipalti's end-to-end AP workflow integrations.
The typical invoicing process for an e-commerce drop ship company is as follows:
The product is purchased by a consumer.
The company has the product shipped by the vendor.
The vendor submits an invoice to the company.
The vendor Invoice is processed and paid by the company.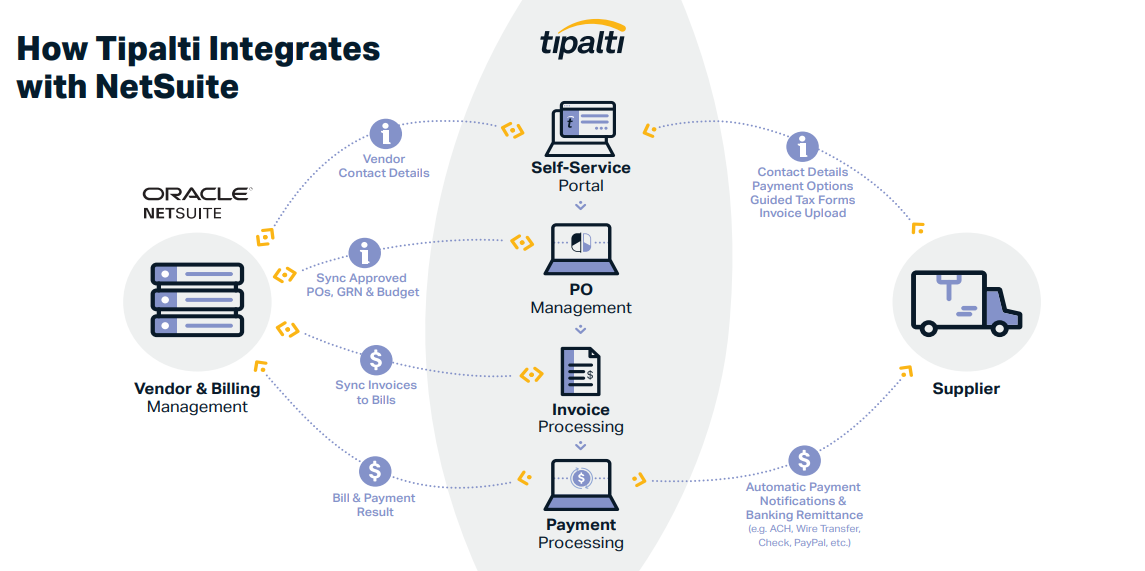 With Tipalti, the electronic data interchange (EDI) can receive and contain hundreds to thousands of invoices at a time and can be processed immediately with no delay. This automation improves the efficiency of the company's previous AP processes, keeps vendors happy, and provides more accurate financial data for business owners and managers to get a clear look into company health.
Reach out to AccountingDepartment.com today to learn more about how our client accounting services, paired with Tipalti's NetSuite integrations, can help you and your business.