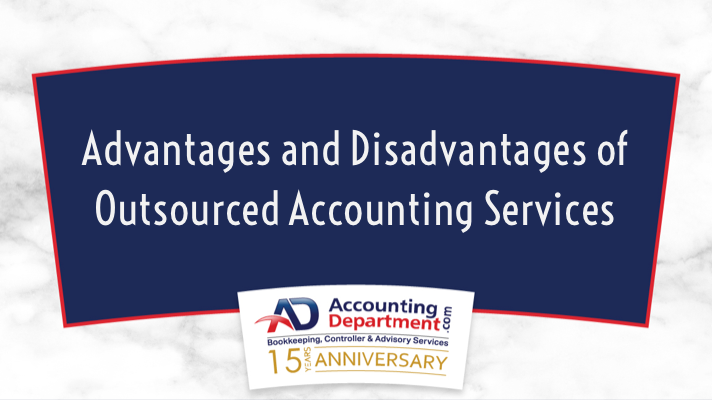 Would your business benefit by using outsourced accounting services instead of an internal accounting department or a CPA firm? Good accounting provides your business with the information it needs to make better decisions, stay in compliance with regulations, and maintain your company's image with employees, potential investors, and the public. It also helps you manage cash flow, ensure employees get paid on time, and keep up with accounts receivable. Very often, the difference between thriving and struggling companies lies in their accounting practices.
At the same time, most executives and business owners need to balance these benefits against their budgets. Outsourced accounting services have grown much more popular lately with companies off all sizes because they can provide an affordable, scalable, and effective way to enjoy the benefits of good accounting practices. Take just a moment to explore the pros and cons of outsourced accounting services to see if they can benefit you.
Benefits of Outsourced Accounting Services
Accounting needs change over time. For many companies, they can even vary wildly by the season. This underscores many of the benefits of outsourced accounting for many businesses.
For instance:
With an internal accounting department, you will need to spend time and money on hiring and overhead. Declining needs might require layoffs and of course, the associated unpleasantness and potential damage to your brand.
If you call upon a CPA firm, they may focus upon taxes, compliance, and financial statements but offer limited resources for such important tasks as bookkeeping and managerial accounting. During certain seasons, such as tax time, you may struggle to access any resources at all.
If plan to keep the books for your own small business, the effort of managing standard accounting processes or running payroll can distract you from your core business. That will limit your ability to either do a good job or attend other vital tasks.
With an outsourced accounting department, you have access to a flexible array of services. These could range from bookkeepers to staff accountants to controllers. And it could mean scaling from basic month end closings to forward-looking dashboards, forecasts and budgets. Your outsourced bookkeeping company will work with you as a partner to supply you with advice and resources when you require them.
If you need CPAs, a high-quality outsourced accounting company will work in partnership with them. If you're not experienced with business accounting, an outsourced accounting services company can do everything from setting up your accounting system, providing security, providing you with financial statements and analytics, to keeping your routine books and more. Better yet, you have a team of professionals to advise and offer insight rather than await your instructions and direction.
Potential Pitfalls of Outsourced Accounting Services
Your company has its own business processes, and while a good outsourced service will try to conform, they will come with their own methods and processes. You will lose the ability to visit an office down the hall for instant reports (though you probably aren't doing that these days anyway). In that way, you may feel like you lose some control and sense of having your finger on the button at all times.
Of course, your new accounting service should have a dedicated team for you to contact, plus comprehensive financial reports combined with insights and analysis. But make sure you understand the appropriate ways to communication at the outset, before you choose your new outsourced service.
Also, scope creep can impact various types of accounting projects. As projects aligned with your growth come up, your charges may increase along with the expansion of the projects. When that happens, some business owners and executives have a hard time understanding and predicting their bills. To avoid this, you'll need to ensure there are transparent and predictable billing practices in place.
Is Outsourced Accounting the Best Choice for Your Business?
For a scalable, cost-effective, and reliable way to manage your accounting department needs, you should consider outsourced accounting for your business. Many small business owners may not even know exactly what services they need, and good accounting services can provide direction with this as well. Finally, whether the world continues to embrace the "new norm" of virtual permanently or just for the foreseeable future, outsourced accounting services have the structures in place to manage accounting without the limitations and considerations of physical office space.