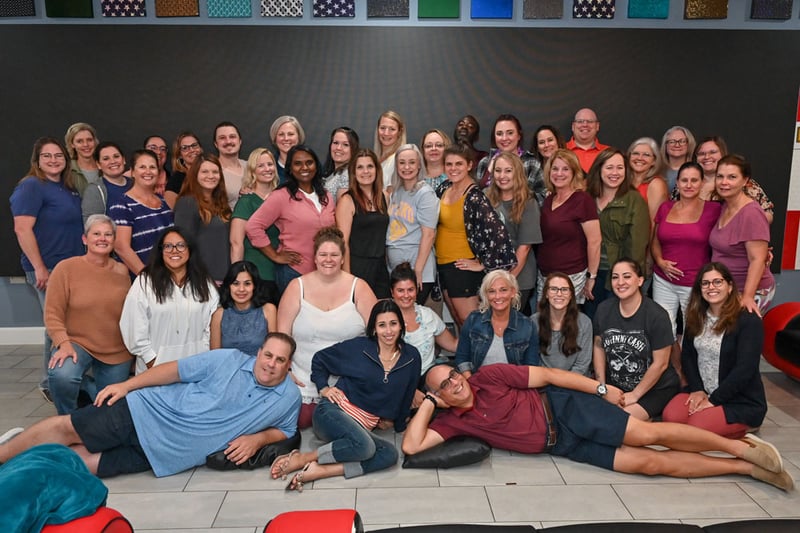 Members of the ADC Team at the 2022 Strategy Meeting in Orlando, FL
If you're looking to outsource your accounting to an outside company, your first thought may be how much it will cost. You're probably hoping to balance the goal of getting the best accounting service with an affordable company. Like many startups, small businesses, and even established companies, you might have no idea how to budget for this type of outsourcing, so read on to discover how much you can expect to pay for accounting services.
The Easy Answer – It Depends
If it sounds a bit mysterious — you're right. It's impossible to come up with a flat answer about the cost of accounting services without considering all the factors that go into setting the price. Multiple variables impact that pricing, such as the size of the business, number of employees, expected growth, and specific needs.
Hiring accounting services is a lot like custom building a new car. While specific options are available, not every business will put everything together in the same way. Just like when picking a sports car, you may choose a specific color and add a technology package, but another buyer might pick a different color and a performance package. Pricing is based on the accounting package you choose.
Consider the Services
When comparing accounting services and costs, you'll need to consider what services you need. Here are a few of those services that many businesses require:
Receivables and Payables: You may need someone to take payments from your customers, send out invoices and notices for payment, and enter payments into a software program. Having an accounting service take care of this frees up time for you to handle other business matters. They can also automate processes to reduce the time it takes to get paid after you have completed the work. However, depending on how you handled your invoicing (and whether you're willing to change sometimes!), invoicing can be a major contributing factor to the cost of accounting services.
Payroll: An accounting service can take care of setting up payments to your employees and contractors, paying taxes, and processing time sheets or time cards. They can also create and upload payroll reports and allocate the costs to specific categories in the business. If you plan to include job costing in your financial reporting, you will want to make sure your payroll processes and reporting are well-designed and managed.
Month-End Reporting: Accounting can prepare reports on profit and loss, balance sheets, accounts payable and receivable, and sales to help you better understand how your business is performing. They can also provide KPIs, or Key Performance Indicators, to determine where you are making the most money and what needs to improve. Some outsourced accounting services will assign you a dedicated financial controller who reviews your monthly reports with you, others may just send you a link to view your reports. This will depend on the support you're looking for and the type of services you engage.
Forecasting and Budgeting: Planning to scale? Accounting services can help you forecast your ability to expand your business in the next year or add a new vehicle to your fleet next month. They also help with budgeting if you want to take steps to grow the business. Even if you're not growth-focused at the moment, having a clear cash flow forecast and budgets for your company will ensure you stay on track.
You may want to hire the best accounting service to do some or all these tasks for your business. On the other hand, you may begin with just a few services with the option to expand as your business grows. In this case, you'll want to outsource accounting services to a company that can handle your business now and in the future.
How Costs are Determined
Accounting rates are often based on a flat monthly fee. The accounting service providers often offer multiple packages with specific services listed, with each package containing additional services. The best accounting service providers will allow you to start with the services or package you want (or can afford) now but remain open to change as your business grows. You shouldn't be locked into one package long-term or limited by the abilities of your outsourced accounting services. Instead, you should be able to add on other services as you need them. For example, you may need a simple 1-year budget and monthly forecast for your company right now but you may find that as you explore additional lines of business or expand operations, you require budgets for every department, and need to understand the profitability by department or some other key performance indicator. Your accounting department should be able to add on and scale these services as you need them.
Firms that don't follow the fixed monthly rate may offer an hourly rate or pay a performance fee. They may quote you a rate based on the number of transactions you have each month. The bottom line of cost to you is more important than the method of determining fee structure.
Choosing the Best Accounting Services
Cost should only be part of the consideration when it comes to choosing the right accounting services. It's important to figure out what kind of services you need, whether it is regular bookkeeping, tax assistance, or budgeting and advisory services.
You'll also want to find out how long they have been in business, which industries they serve, the range of services offered, and the level of support provided. The accounting service should be able to grow with your business and should be an expert in your industry, especially if it is highly regulated.
Benefits of Outsourcing Your Bookkeeping
There are many benefits to outsourcing your bookkeeping including:
Removing Employment Costs
For smaller businesses, hiring a full-time bookkeeper may not make sense. It can be costlier to have a full-time employee than to outsource the work. You'll also be responsible for training and developing your internal staff, which is hard to manage on a long-term basis when you're more likely to be focused on your sales and goods or service delivery.
Transparency
Transparency is another reason to outsource your accounting. Having an outside accounting services company can make your clients, customers, vendors, and partners feel more confident in your business and its stability. An outside accounting service shows you care about the integrity of your financials and your business's well-being. They also help maintain the business's integrity by detecting any potential theft, fraud, or embezzlement issues that could otherwise be hidden internally. Finally, for companies seeking outside investment, considering a future sale, getting awarded a government contract, or even establishing a line of credit at a bank, showing that your accounting is managed by a reputable, professional service will do a lot to establish your credibility.
Access to a Valuable Resource
You can look to accounting services as a valuable resource when it comes to planning and making financial decisions. They can help you decide on whether potential investments or financial decisions are good for the business. Because they have worked with other companies in and around your industry, you can benefit from their knowledge, experience, and expertise. This becomes critical when you're just starting out or looking to expand your business. Unless you're a financial expert, you may not recognize the pitfalls or benefits heading towards you—but your accounting services just might.
It's More Than the Cost
Outsourcing accounting services is about more than the cost. It's important to weigh the price against the benefits the company provides. AccountingDepartment.com has a full team of controllers and accountants to take care of the financial aspect of your business. You can have complete confidence that your accounting is getting done correctly. Contact AccountingDepartment.com today to find out how we can help you with your bookkeeping and other financial needs.