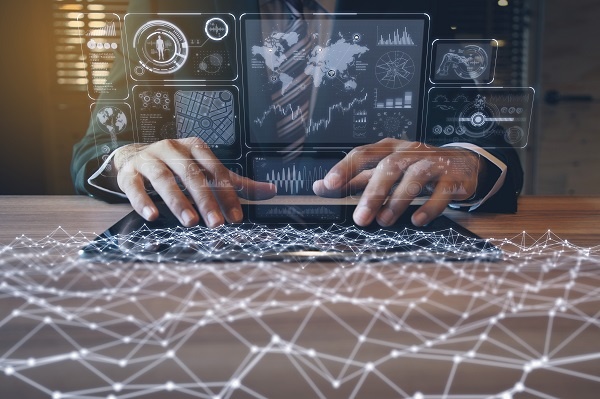 Information technology innovations have brought sweeping changes to contemporary accounting practices. The electronic data interchange (EDI) has arguably been among the most impactful. Implementation of the EDI brought transformative change to the modern accounting department productivity standards and work modes. The EDI's user interface (UI) enables the EDI's public use, defines the functions of its role in its particular user environment, and is the determinate of its extent of practical usefulness.
In building a UI for an accounting department, designers must anticipate what EDI users may need to do in their interactions with the department through the EDI. The design goal must be to ensure that the UI has elements that users can easily access, understand, and use to accomplish their tasks.
Benefits of a Financial Department EDI
Just a few of the essential advantages to having a technologically up-to-date, simple, feature-rich, reliable UI include:
Reduces Data Entry Errors — In digital, or other electronic invoices.
Minimizes Use of Paper Invoices — Reduces need for physical space for archives, reduces risk of loss of documentation due to fire, vandalism, error, etc..
Improves Efficiency — The Electronic Data Interchange's UI improves efficiency of accounting transactions, and it standardizes the process of exchanging information between parties to transactions.
Reduces Processing Time — The EDI's UI arguably significantly reduces the negative effects of complexity on overall department processing time.
Improves EDI e-Invoicing — EDI-enabled accounts payable processes significantly reduce delays and errors.
Saves Down Time for Educating UI Users — Saves time fielding phone calls and emails from external and internal customers asking questions about how to navigate the UI.
Designing an Accounting User Interface
A UI is the outcome of coalescing concepts from user functions design, visual display design, and information architecture. Ultimately, the successful election and integration of all conceptual components from all of these areas of UI design depend upon thorough knowledge of users' needs, preferences, skills, goals, and tendencies regarding their work. First, acquire an understanding of these. Then, consider the following recommendations for designing the optimal UI for your accounting department:
1. Keep your user interface simple.
The best interfaces are virtually invisible to the user. They afford users a seamless, convenient experience by presenting a display of user tools that includes:
Only elements that are for the purposes of the end-users, not for systems administrative or maintenance purposes.
Clear language on labels, and in prompts, messages, and dialogues.
Contrast between types of elements that makes them easy to distinguish from one another.
2. Use common UI elements, and create consistency.
UI users have become familiar with the particular ways that common interface tools respond. By using elements in your UI that are familiar to its users, the users will feel more comfortable interacting with the interface will be able to get their tasks done more quickly. When a user learns to perform a function in one module, he/she can apply that skill in using other parts of your site. So, a priority in UI formatting is to try to:
Produce a comprehensive set of consistently performing functions, all of the subsets of which perform consistently with it and across all other subsets.
The responsive behaviors of all UI user tools should be selected in adherence to this design symmetry standard.
The general layout should be predictable throughout the site in all of its other design aspects as well.
Create patterns in the language, throughout the site, to facilitate user efficiency.
3. Create a page layout that is purposeful.
Evaluate the practicality of the spatial relationships you have created between items on the page. Structure the page with arrangements between elements that are based on their respective importance. Place items in a proximity that can help draw users' attention to more important information, and that can further aid in scanning (skimming) and readability.
4. Choose default options carefully.
Carefully consider the goals with which users come to your site. Anticipate these as you create defaults to reduce the burden on your user. This is an especially important approach when designing a form in which you have opportunities to set up some fields so that they can be pre-selected or already filled out for the user.
5. Create hierarchy and provide clarity.
Carefully consider every detail of the topography you are developing for your UI. Select a crystal clear typeface. Apply varying fonts, sizes, and text arrangements, to help improve scan-ability, legibility, and comprehensibility.
6. Use textures and colors strategically.
Use colors, textures, contrasts, and lighting effects to direct users' attention toward, or to redirect their attention away from items on the UI, as desirable for purposes that serve your department's and your EDI users' best advantage.
7. Ensure that your EDI system communicates what is happening effectively.
Employing various UI elements to communicate with your users regarding status, and next steps (as necessary) can go far toward preventing, or significantly reducing frustrations for users. Always provide messaging that informs your users of location, required actions, alternatives (if applicable), errors, changes in state, and so on.
8. Choose Practical Interface Elements.
Users have come to expect various interface elements to act in certain ways. It's helpful to build on this familiarity to further facilitate a smooth, confusion-free user experience with the UI. Try to be consistent in making your element choices and in creating the layout of those. The objective should be to provide a UI that provides predictable options and responses to users' commands. Such a UI helps users complete tasks with greater efficiency and satisfaction.
Familiar UI elements include the following, among others:
Navigational Components — Icons, search field, slider, breadcrumb, pagination, tags
Input Controls — Date field, text fields, buttons, checkboxes, dropdown lists, list boxes, radio buttons, toggles
Informational Components — Message boxes, icons, tooltips, notifications, progress bar, modal windows
Containers — Accordion
9. Prioritize clarity over saving space.
An optimally practical UI design anticipates users' needs and ensures that functional elements are easy to access. During the design work, there are sometimes choices to be made between multiple elements that appear equally appropriate for displaying content. When this occurs, take the approach of considering the trade-offs being made in a given choice. For example, some elements that could help you save space on the options display may place more of a mental burden on the user, by leaving them to guess what is inside a dropdown, or what the element might involve. In that case, consider:
Placing icons for the most-used option(s) outside, without obscuring them in a menu that is not readily visible and that must be actively selected.
Or, add a mouse-over (Screen Tip) that the user can activate by simply hovering over the menu label, and can read to get a clue about what the dropdown menu contains
For more information about improving your accounting department's user interface, or about outsourcing some or all of your business accounting functions get in touch with our team today.