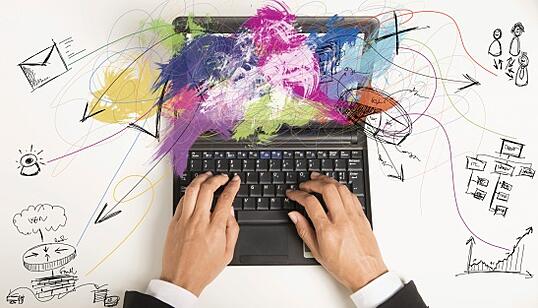 There is no denying that managing the financial end of a business takes some effort. Thanks to Intuit and QuickBooks Online, this otherwise daunting task has been simplified by top accounting software. The most recent updates applied to the accounting site involve time-saving modifications. Whether you're a fan of the brand or new to the QuickBooks world, you'll likely benefit from these changes.
Friendlier Usability and Interface
One of the most basic adjustments to the service is the new keyboard shortcut. You can now tap the escape key when you want to close your transaction forms. This will close any expense pages or invoices so that you can view the screen you started with. A small tweak to the money bar adds to the convenience, allowing you to view a clear time frame for the presented data.
Other alterations include visual refinements that simply clean up the look of certain pages. Larger icons, a more prominent help button and subtle color changes improve the visibility of the menus. These seemingly minute details make navigation from task to task easier and more straightforward, which ultimately saves time as well.
Greater Visibility for Bank Transactions
In this version of QuickBooks Online, when you need to download any bank transaction, a description of the transaction will be copied straight to the memo field. You'll need to enable this feature via the banking transactions page. You don't have to use it at all, and you can select it only as needed.
The option to copy the description of your bank transactions pops up once you tap the gear icon on the transactions page. After you select it, transaction descriptions are automatically copied to the memo field. You won't have to copy them each time. With this feature, your bank transactions will be more visible on multiple reports, which can eliminate confusion.
Easier Expense Management
In the older version of QuickBooks Online, keeping track of expenses was slightly more confusing. The updates now allow you to easily view any attachments associated with each expense. A column in the expense list shows the numbers of attachments for every expense displayed. Pressing a number will display the list of attachments for you to open or download.
You will need to enable the expense list attachment feature via the gear icon on the expense transactions page. By selecting this option, you can quickly scan the number of attachments per transaction and access the ones you need with just one tap. You'll have greater control over your expenses, and there will be no more guessing games when it comes to matching receipts with transactions.
Quicker Methods for Receiving Payments
Sending invoices and waiting for deposits can be exasperating, particularly if you engage in multiple transactions with a variety of customers. New updates of QuickBooks Online make things substantially easier when it comes to dealing with those recurring invoices. You can now offer customers the option to pay immediately online via credit card or bank transfer with a convenient and easily spotted button.
You can enable this option on the recurring invoice page by tapping the provided link. After you send out your recurring invoices and the customer pays via this feature, your job is basically done. You'll automatically receive an update to your books as soon as the money is deposited into your bank. In addition to the online payment option, you'll notice more subtle changes to the recurring invoice page. Essentially, the layout is friendlier on the eyes.
Better Organization
Although Intuit already offered a fairly impressive structural design, some of the new enhancements not only speed up the basic processes, they help maintain a sense of organization. One main example is in the batch actions window. When you work on a batch update of your bank transactions, you can edit the name of the payee in the same window. This simple fix means you can experience a smoother process with less confusion.
Not only can you change the payees on multiple updates, you can print a batch of 50 invoices at once. If you need to void any invoice, you can easily view the details of the void on the sales transactions page. Another small but useful modification involves editing the address of your customers; you'll now see the changes in both regular and recurring transactions. It's also easier than ever to keep track of your sub-customers.
The restructured and enriched version of this service allows you to complete a larger number of tasks in a smaller amount of time. The changes seem to be more about usability rather than performance, but the minor details can have great impact for the long term. Each update offers more flexibility for small business owners who want to stay informed regarding their financial positions.
Staying on top of accounting and bookkeeping software can be overwhelming for many small businesses. If you're struggling to keep up with QuickBooks or any bookkeeping needs, our experts can help!