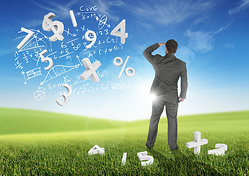 Small businesses are migrating to cloud-based accounting in increasing numbers, seeing it as a viable solution to more limited and tedious hardware-based accounting programs. Cloud storage provides account access by authorized personnel at all times from any connected device, instantaneous updates and real-time financial data on demand.
Cloud-based data storage is the ideal fit for business owners who prefer to keep their operations lean and agile. Checking on daily income while on the move is a quick and simple smartphone task. However, some CEOs consider the prospect of storing sensitive financial data online to be daunting.
The Basis for Cloud-Based Security Concerns
Some of the primary concerns people have about entrusting their books to the cloud include:
Data theft via hacking or hardware hijacking
Data alteration or corruption by inexperienced personnel
Data loss due to cloud instability
Data loss when a cloud-based company quits business
Not every cloud-based application has airtight security to say the least, but many go the extra mile to keep your financial data safe. Through a combination of document encryption, user authentication and authorization, many cloud-based accounting services provide a level of protection similar to your online banking institution. Here's how a leading cloud-based accounting program and several integral apps keep your information private.
QuickBooks Online: A Security Pro
Intuit, maker of QuickBooks desktop accounting software and now QuickBooks Online, kicks off its security system with a secure equipment facility, the Intuit Data Center, where guards stand duty around the clock. Closed-circuit video surveillance, backup power, and smoke and flood alarm systems ensure physical security for the company's data storage hardware. As good as that sounds, however, you are probably more concerned about online protections to prevent your financial information from getting into the wrong hands.
Intuit depends upon proven safeguards to protect your business data. Its online accounting app has VeriSign Security coverage with optimum SSL – secure sockets layer – certification. QuickBooks Online uses password protection for your login, servers with firewall protection and banking-type encryption technology. Additionally, Intuit is a licensed member of the TRUSTe Privacy Program, a watchdog for fair information practices.
Tallie: Keeping Your Sensitive Data Secure
Tallie is a great cloud-based compatible app that tracks your employees' expense accounts. It utilizes safe public servers as well as private servers that are shielded within a virtual private cloud not directly accessible from other web locations. In addition, the Tallie system is capable of sourcing and integrating data from your existing protected QuickBooks records.
TSheets: Security Is a High Priority
TSheets is an employee timekeeping app designed to integrate with Intuit products. It has recently upgraded its security rating to match the stringent requirements of the QuickBooks company. One of these upgrades is continuous SSL financial data encryption. Daily data backup and customized permission levels for your personnel allow you to control who can view your payroll reports. Additionally, TSheets software complies with the necessary security standards to prevent data mining.
Bill.com Security
Bill.com is a bill processing and payment service that is compatible with QuickBooks Online and other accounting software. It has instituted numerous security measures in the interest of protecting clients' data, including:
Extended Validation (EV) SSL
Firewalls
Secure storage facility
Encryption of all sensitive data in database
Continuous off-site backup to eliminate data loss
Although some cloud-based accounting systems are safer than others, you always run a slight risk when it comes to working online. That is why it's important to rely on an accounting services provider who has the expertise to select the right accounting systems with the best security available to keep your online business data virtually secure.
Need help with understanding which cloud-based accounting apps are right for your business needs? Our team of certified experts can help!