---

Wow! We cannot believe it is nearly Thanksgiving already. This year has truly flown by--and we would be remiss if we didn't take a few minutes to discuss just some of the many, many things we're thankful for this year at AccountingDepartment.com.
About.com
This year we were approached by About.com to become their expert-in-residence for all things accounting. We gladly accepted and have provided thought leadership on accounting and bookkeeping for businesses since July. We look forward to educating even more small and medium businesses on accounting best practices in 2016!
National Vistage Worldwide Sponsorship
In 2014, we "dipped our toe" in the shallow end of Vistage sponsorship but quickly realized that this was the perfect place for us. We jumped in with a National level sponsorship in 2015, sponsoring 20 Vistage Executive Summits and All City events, presenting two Vistage with Friday webinars and authoring blog content on business accounting. Two of our three directors even joined their own respective Vistage groups and our director and co-founder Dennis Najjar joined the speaker circuit, providing small group and one-on-one presentations to Vistage members around the country. We are especially thankful to have received such a warm reception from countless members and chairs in each city and to be able to count many Vistage members as our new clients this year! Finally, we are even more thankful to be expanding our 2016 sponsorship to include 36 different locations, new webinars and a host of other activities.
Our Growing Roster of Amazing Accounting Professionals
We proudly count among our staff professionals with tenure nearly as long as the company has been around in addition to very high staff retention and development rate. However, we are growing fast and recognize from our experience counseling other businesses that there are "growing pains" to be had when attempting to scale any company culture.
By paying careful attention and putting additional resources behind our training and development, we were able to successfully add 22 new employees to our company in 2015 (and technically, the year is not done yet!). These 22 employees span 3 key departments and bring with them a host of new skills, expertise and capabilities to help us provide superior services to our clients. In addition to that, we saw many tenured employees advance to new departments or supervisor roles and even facilitated two separate company trips to promote development and learning for two departments this year.
Our Controllers and Accounting Managers met in Las Vegas to attend the Sleeter Group's Solutions Conference while our Client Implementation team met in New Orleans to attend the accounting industry's Scaling New Heights conference. Both groups are responsible for stewarding the forward progress of accounting services at AccountingDepartment.com and the experience they gained at these conferences is paramount to supporting that mission.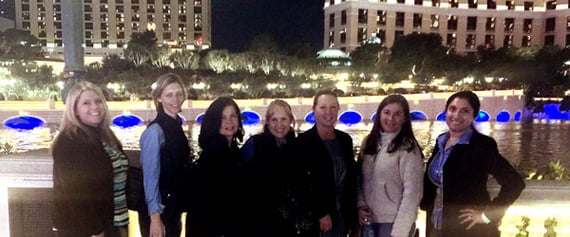 Our Controller and Accounting Manager Team with Director Kris Merritt in Las Vegas.
Our Network of Clients Across the U.S. (And Abroad)
This year we welcomed clients from across many industries and locations. From coast-to-coast, we count among our client roster esteemed professional services companies, goverment contractors, non-profit organizations, fast-growing startups, medical and legal services, IT providers, construction and manufacturing companies and a myriad of unique and developing companies.
Want to join us in 2016? Whether you're looking to work for a company with a glowing company culture and a history of support for employees and clients alike or looking to hire the best professional accounting services company in the U.S., we have something for you! (We even have something for you if you simply need a speaker for your next event or content contributions for your blog or newsletter).