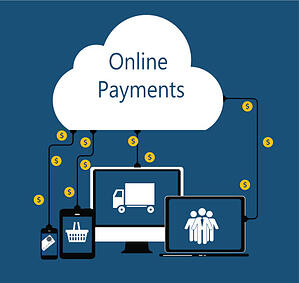 We're proud to serve a wide range of clients, from SMBs just starting to find a strong foothold to those will burgeoning profitability. As such, we're used to fielding small business accounting questions at all stages of business development. From whether financial forecasts indicate a major business investment is in order to questions about whether to lease or buy to how to handle a looming financial event, our bookkeepers and controllers have considerable experience navigating "uncharted" waters for SMB owners.
For some of our earlier stage clients, entering the world of online bill payment can be an intimidating production. Questions of whether to accept online payments at all, whether automated features will improve efficiency and whether new systems will be difficult to learn or monitor all must be considered before embarking on such a decision. Fortunately for you, we've been around this block a few times.
Should My Business Accept Online Payments?
Many businesses will have you believe that deciding to accept online payments is basically a "no-brainer". And in many ways, this is true. After all, you are able to establish an easy-to-track digital paper trail to generate, send and follow up on invoices. On "paper", it is a better solution than managing paper invoices in virtually every comparison we can think of.
Why then is this even a question?
Well, because there is the theory of automating and streamlining bill payment through online methods--our favorites include Bill.com and within QuickBooks--and then there is actually doing it. If your accounts receiving information isn't up to par, your records are all over the place, your books don't make any sense and your invoicing without a clear process, then you might be biting off a pretty major project. But even if this sounds like you, does this suddenly mean online bill payment isn't in the cards for you?
Of course not.
Cleaning Up Accounts Receivable
Cleaning up your A/R is paramount to successfully automating and enabling online bill payment. You could go ahead and simply allow current invoices to be paid online without doing the back work, but your data is only as good going in as it is set up to be. If you want to be able to create AR aging reports, follow up on unpaid invoices, assess interest and penalties--or simply have a clear snapshot of your financial picture, then you need to clean up your accounts receivable before you turn on online bill payment features.
Check Your Integrations
Do you have a CRM in place with some invoicing or payment data and an accounting file with the rest? Do your systems speak to each other? If they don't, you won't be doing your bookkeeping any favors by introducing yet another system to the mix. Take the time to make sure your systems play nicely and your data syncs across platforms. It may take a little more time to get started but it will save you countless hours in the end.
Double Check Your Profit Margins
Accepting online bill payments comes with a price--termed merchant service fees. They're typically tax deductible, which helps reduce the burden, but you still have to factor them into your overall budget. Of course, if you can reduce the man hours dedicated to generating invoices and tracking down late payments, you may very well be reducing your overall expenses in the end.
Accounts Receivable Like It Is 2014
Finally, and this is a big one, accepting online bill payments may simply be something you just need to get in the game on. With the entire modern world moving towards automations, online connectivity and cloud-based support, foregoing this may ultimately cost you in the long run. After all, your customers have certain expectations and they often extend past your basic products and services. Online bill payment provides a myriad of customer service-related features, not least of which is convenience and ease.
If you still have concerns about whether to accept online bill payments or how to put in place the systems you need to make them work, our accounting professionals can help you get up and running. Schedule a free consultation today.