During the virtual Vistage Executive Summit in Portland, OR this past week, we were shown some interesting figures by Connor Lokar of ITR Economics, comparing surveys from a group of Pacific Northwest CEOs from Q4 of 2020 to Q1 of 2021. The results? Well, it seems that things are certainly looking up!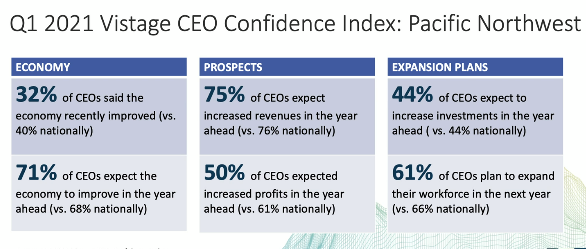 32% of CEOs said that the economy has recently improved, versus the 6% that thought so in Q4 of 2020. It is a good sign that so early in the year, CEOs are already starting to feel that updraft in the economy, which could lead them to do more things, such as investing.

44% of CEOs expect to increase their investments in the year ahead, which is a 4% increase over Q4 of 2020. That, coupled with the fact that 75% of CEOs surveyed expect increased revenue in the year ahead can justify your executive team to say "this is the time". This is the time to make sure that you know you have what you need to handle growth over the next few years. Reach out to see how AccountingDepartment.com can help and prepare you for this growth in 2021 and the years coming!