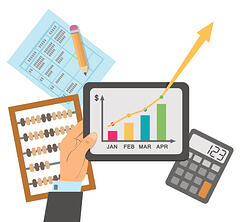 Every bookkeeper knows that when a company has adequate cash flow, it provides multiple opportunities to lower operating costs. Early payment discounts offered by vendors can be taken advantage of. Lines of credit are accessed less often, decreasing their related interest expense. Cash purchases of assets can save money on financing. A healthy cash flow also creates a strong financial statement for your business when negotiating rates with your banker.
The best way to manage and improve cash flow in your business is to shorten the collection time on your accounts receivable. If you want your clients to pay faster, you need to offer them plenty of convenient payment options. The easier it is to pay, the faster they are likely to process that payment. Including small business accounting strategies using QuickBooks Online have a significant advantage in that area.
Invoicing with the Pay Online Option
QuickBooks Online invoicing offers the ultimate in payment convenience. The invoices your bookkeeper creates in QuickBooks Online can be sent via email to your client, arriving in their inbox within seconds after the invoice is finalized in the QuickBooks system. When your client opens the email, they are provided a link to the invoice online. They can view the entire invoice with its line-item details, payment terms and any notations you have included. Once they have reviewed the invoice, they can then choose to pay the invoice instantly, right online, without even moving to another tab or browser window. They simply click the "Pay Online" option.
From there your client can choose what type of payment method they'd like to use, credit card or bank transfer, and the payment is processed with the information they have provided. They can also save their payment information for future transactions to make future payments even faster.
Save on Bookkeeping Errors and Delays
Meanwhile, inside your QuickBooks Online, you and your bookkeeper or outsourced accounting service will immediately see the invoice marked as paid. The system processes the payment automatically, eliminating bookkeeping errors and delays. The payment is marked as a pending deposit until it is recognized as a processed transaction in your bank account. Once the bank processes the deposit, the QuickBooks' system updates your corresponding cash account with the deposit amount.
It is important to note that there is a transaction fee charged by Intuit for these online payments, similar to what you would be charged through your merchant account for processing a credit card payment. That transaction fee is also recorded in your QuickBooks Online accounting system automatically, along with the invoice payment and bank deposit. Discuss with your bookkeeper or accounting service whether the faster online payments are worth the transaction fees before deciding whether to use this convenient payment option.