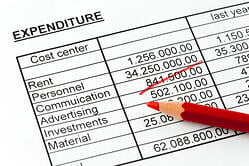 In bookkeeping, job costing is simply the task of tracking the expenses on a project and comparing them to the revenue that job produces. Job costing is critical for high-dollar jobs like building projects, consulting or architectural contracting, but it is also used by manufacturers to record and compile costs for materials, overhead and labor for a specific job or batch of products. Job costing can give a business keen insights to reduce expenses and improve profitability, if properly utilized.
Bookkeeping services are typically well-versed in job costing procedures, and they can set up your accounting systems to easily track your expenses and revenues. Having access to detailed job costing data will help you, your CFO or controller make the best decisions as they pertain to the job at hand, and to future job quotes and resource management as well. It also ensures that all of the costs that are part of the job are appropriately passed along to the customer. An Estimated vs. Actual report will give an analysis of the quoted costs to those that were actually incurred – critical information to have when bidding on future work.
Components of job costing
Ideally, your bookkeeper will track all the costs attributed to the job, make sure that all the costs are billed to the customer, and produce a report that details costs and revenues for each job. There are typically two types of jobs quoted – fixed fee jobs, and time and materials jobs. Fixed fee jobs are typically quoted a bit higher to include any potential overruns.
Let's look at a few of the many components of job costing:
Quotes - The initial projection of costs you give the customer before the job is awarded to you. These can also be called proposals or bids. Quotes also need a way to track ongoing costs; this keeps costs in line and allows for overruns to be dealt with.
Materials - All of the project components, like building supplies, are assigned to the project once they are used. They can be costed based on actual costs as purchased for the job, or on average if they are materials used frequently by the business.
Labor - Employees and subcontractors record their time for specific jobs, and your bookkeeping services assign it to the jobs in your accounting software.
Overhead - Overhead costs are typically accumulated in cost pools, and divided among the jobs proportionally.
How can job costing improve profits?
Job costing is the best tool for tracking costs to specific jobs and analyzing them to reduce costs in future jobs. Job costing reports are helpful for keeping costs down during the progression of a job, and they also help you to identify the most profitable and least profitable components of your business, allowing you to focus on those parts that make you money, while adjusting or eliminating those that are draining profit.
By having and using detailed job costing reports from previous, similar jobs, quoting new work is much more of a science than a mere "guesstimate." This allows the business to earn maximum profits and take advantage of future growth opportunities.
Need help implementing job costing at your company? Our team of dedicated financial controllers and bookkeepers can help you get your job costing on track. Schedule a free 30 minute consultation today to review your accounting needs.