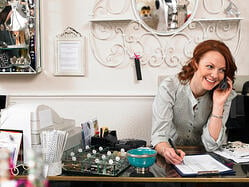 When Becky Taylor opened her quilt and fabric shop, she did just about everything on her own - from creating samples to paying the rent and other bills. As her business grew, however, she began to notice she was spending less time helping customers make beautiful heirlooms and more time in the back room enter data into QuickBooks. Like Becky, every successful entrepreneur reaches the point where they need to look for outside help with specific tasks like bookkeeping and accounting. How can you tell if you need to hire a professional to help you with your own business? These signs will let you know it is time to seek help.
Bookkeeping is Taking Up Too Much Time
If you are spending more time crunching numbers than you are managing your business, you should consider outsourcing your accounting. According to Intuit, most small business owners spend 10 hours a week on paperwork. If you could use those hours for marketing, merchandising or addressing the needs of your customers, if you haven't had a day off in months because you spend your Sundays getting your books up to date, or if you just spent any part of last week trying to coerce insightful reports out of your accounting software program, you should consider outsourced accounting services.
You Don't Have the Ability to Manage Bookkeeping Staff
The downside of hiring a part-time or in house bookkeeper is it actually adds to your workload. You need to manage, train and keep tabs on their efforts--which takes up time and may not be something you're capable of anyway. One of the leading problems small business owner have hiring a part time bookkeeper is the inability to ensure proper recordkeeping and analysis is being performed every day. After all, if you don't know how to do it correctly, how can you be sure someone else is?
You Are Running Behind
A day behind may not seem that bad, but lose track of even a few days of invoices and payments and you'll find yourself in a quagmire that only a professional can unravel. If you are constantly falling behind and failing to keep track of your paperwork, your business - and your credit - will suffer. When you outsource, you free up your time, and still put your figures in the hands of a skilled professional.This especially applies to payroll taxes, accounts receiveable and accounts payable. Simple point--if you don't have time to make sure you're getting paid as well as keeping the IRS happy, you are sitting on a major problem.
You Lack the Skills Needed to Keep Your Books
If you can't do your own accounting, or you struggle with bookkeeping tasks, professional bookkeeping services are a must. You may be missing valuable steps or information, simply because you are not familiar with the subject matter. Before signing up for a crash course in QuickBooks--or hiring your friend to perform data entry tasks for you--consider everything you don't even know you need. A professional bookkeeping service will know what information you really need without you even having to give directions or request reporting.
You Don't Know Where Your Money is Going
Are you overpaying for some things - or missing out on important deductions? In many cases, a professional accounting service can pay for itself by spotting missed items or coming up with innovative solutions to your bookkeeping problems.
Hiring bookkeeping services can be a big step for your business, and is an ideal way to acquire the expertise of an accounting professional without overwhelming your budget. If you want to find out more about how outsourced bookkeeping services, we can help. Contact us to find out how.