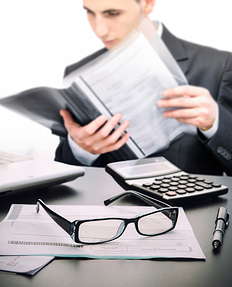 As more businesses turn to online business solutions for everything from marketing to booking business travel, you may be considering a virtual accountant to take care of your firm's bookkeeping and accounting needs.
One of your concerns might be regarding the accuracy of the work of your virtual accountant. After all, if this person isn't under your thumb and in your building, how can you know he or she is doing the job they're supposed to, and that your financial reporting is 100 percent.
We have a question for you: Do you know that your current bookkeeper is providing 100% accurate financial reporting? What systems and processes do you have in place to ensure timely and accurate bookkeeping?
A study from the Association of Certified Fraud Examiners lists in-house accounting professionals as the individuals most likely to commit corporate fraud or steal from your company. That's not even taking into account honest mistakes made by a bookkeeper who is overworked, under-qualified, or both.
On the other hand, a virtual accountant from AccountingDepartment.com works within our strict processes and procedures to ensure accurate financial reporting for your business. Here are three factors that contribute to our high customer satisfaction ratings and timely and accurate financial reporting.
The right training and proven processes and procedures that work to improve efficiency and accuracy – The professionals at AccountingDepartment.com have taken years to develop the processes and procedures that work for businesses with annual revenue from $2 to $25 million, who need help with financial accounting. These procedures are outlined in our Client Procedures Manual, customized for each client, based on that company's specific needs. Every virtual accountant in our company is trained in these processes and procedures for consistency you won't find anywhere else.
Tight internal controls that include checks and balances – Even with the right training, anyone is capable of making a mistake. In bookkeeping, a small data entry error can cost a business money. That's why our financial controllers oversee the virtual accountant, double-checking their work to ensure there are no errors. This is also an added protection against fraud.
End-of-month "closing the books" procedures – There's no reason you should just take our word for the accuracy of your financial statements. Every month, your virtual accountant and financial controller "sit" with you (virtually, through Skype) in a process that we call "closing the books." We'll review all transactions with you and, when you sign off on the accounting statements for that month, the books are "locked" so that no one can change the data.
Through today's online business solutions, virtual accounting is more secure and accurate than ever before. Why not contact AccountingDepartment.com and see how we can make a difference for your business?