AccountingDepartment.com is the leader in outsourced accounting, bookkeeping, controller, and advisory services. We are the largest and most experienced outsourced provider in the country and serve businesses nationwide with our 100% U.S-based team of professionals.
AccountingDepartment.com is constantly growing to fill the needs of our client base, so with that growth, new positions are being created to best serve our ever-growing client base.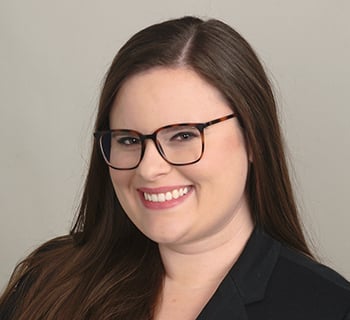 Today we are featuring Tiffany B, one of our newest and first Accounting Managers. Tiffany began her journey at ADC as an Accounting Specialist and worked her way up to a Senior Accounting Specialist position.
The journey was not an easy one as she had to pass an initial entry exam during her hiring process and a Sr. Accounting Specialist exam to make that next jump. This is one way that AccountingDepartment.com ensures its Accounting Specialists are some of the top qualified candidates for the positions they hold. And with these exams under Tiffany's belt, she was highly qualified to apply for the Accounting Manager position.
Why AccountingDepartment.com?
Tiffany originally was drawn into ADC because she was looking for something that offered remote work and somewhere that employed W2 employees, rather than 1099 contracted employees.
But once in the doors of ADC, the people, unmatched leadership, strong company culture, and support to succeed from within is what keeps Tiffany here as a part of the team.
The New Accounting Manager Position
As ADC grew, there was a demand for more positions within the company. These new positions were created to bridge the gap between Specialist and Controller positions.
Committees were created internally and Tiffany also took part in various conversations with ADC Co-Founders, Dennis, and Bill, to give input on some aspects and responsibilities she would like to be incorporated with the new position.
Knowing that she had the support of ADC behind her to succeed, Tiffany was motivated to apply for the position because it allows her to expand her horizons and bridge the gap between the Specialists and Controllers.
The Best Part About It
One of her favorite features of her new position is that she works closely with Dennis and Bill with a higher level of information. Additionally, she is now part of the controller calls and has the ability to see how different groups work within ADC.
When Tiffany began her journey with AccountingDepartment.com, there was no set path to where her career could progress and no clear path to a Controller at the time, let alone Accounting Manager jobs.
However, she saw the potential to grow within and worked hard to make it to where she is in the new Accounting Manager position. AccountingDepartment.com is dedicated to growing and evolving the positions within the company and it continues to rapidly grow.
In all aspects of the business, ADC has trained professionals to best serve its clients and provide the best results possible. If you or someone you may know is a good candidate to join the AccountingDepartment.com team, visit our Careers page today to apply!
Careers at AccountingDepartment.com
At AccountingDepartment.com, we offer many options for those looking to advance their careers. From Accounting Specialists, Controllers, to Accounting Manager jobs, there are many possibilities for ADC to be a good fit for you. For those that are looking for new positions, create a job alert. You can create a job alert for accounting related positions all around. Job alerts are one way to be able to find out about positions as soon as they are opened up and give you the chance to be an early applicant on the date posted. Not interested in working in an in-person accounting department? ADC can help with that too with its fully virtual workplace! ADC has employees from New York to Florida, Nevada, and all over the United States and has experienced large growth over the prior year. AccountingDepartment.com prides itself on hiring from within, so there is always the opportunity to go from Accounting Specialist to Accounting Manager jobs (or related field) and anywhere in between. If financial reports, account reconciliations, balance sheet creation, corporate accounting, and all other accounting department related tasks are in your talent bank, you may be the ideal candidate for ADC. We look for the best of the best in accounting employees that work closely with our amazing clients in a range of experience level. Not to mention, ADC utilizes the top accounting software for its clients to ensure accurate accounts payable, financial reports, balance sheet, journal entries, daily operations, and more for its clients. Remember to check out the AccountingDepartent.com website for open positions, create a job alert for when the perfect position opens up, and keep an eye out for the latest job alert, whether it be an Accounting Specialist, Controller, Accounting Manager, and more.