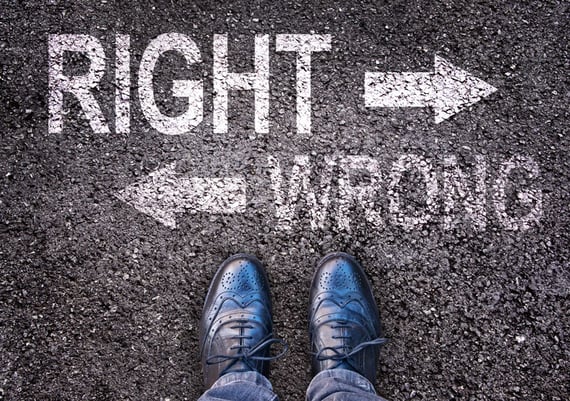 As an entrepreneur or small business owner, you face a number of risks every day: Market, product, client, execution, growth and security challenges are all constant companions when building a business. It only takes a few significant errors to set growth back for months or even end your business completely.
Bookkeeping and accounting lapses can also hinder your success. Here are five accounting mistakes that put your business at risk and how to avoid them.
1. Trying to Do Everything Yourself
You've learned to rely on yourself to get things done. In the early days, everything was on your shoulders, so you took on all tasks and duties. Now that you have a stable business and are generating good revenue, your independence can hurt you.
Alternatively, you may be continuing to do accounting tasks in an effort to save money or because you think you are staying on top of things. Both these scenarios mean you are more prone to making mistakes and you are pulled away from your main mission: growing revenue and profits. Growing businesses face growing risks and liabilities, meaning the accuracy and integrity of their financial data is even more important to the health of their business.
2. Avoiding SaaS Cloud Solutions
Are you still running everything on Microsoft Excel? It's powerful software, and it has served you well for many years. But cloud-based accounting programs typically use the common double-entry approach that helps avoid errors and provides more accurate reports. Whether you simply move to current technologies such as QuickBooks Online or any of the hundreds of cloud-based third party accounting applications tackling everything from time tracking to expense management or make a complete move to outsourced bookkeeping services that operate entirely in the cloud, you need to realize that there are better options than pencil and paper (or Excel).
3. Not Investing in Quality Bookkeeping Services
When building a business, it's as important to keep costs down as it is to grow revenue. But when you employ professional accounting and bookkeeping services, it can hurt you if you insist on using the cheapest provider. If you make the decision on what accounting provider to use based solely on price, you invite a greater likelihood of mistakes, something you were trying to avoid by hiring professionals in the first place.
Keep in mind that not all bookkeepers and controllers are created equal. There is a tremendous difference between a part-time, self-taught QuickBooks data entry person and complete outsourced bookkeeping services with teams of professionals managing hundreds or thousands of clients like you.
4. Not Admitting You Don't Understand Bookkeeping Jargon
If you look at reports and do not understand them, they are useless, even if the data is perfect and complete. Your bookkeeping team is there to manage your data and keep you educated and informed. Even if you know the basics, you don't have time to learn every minute tax and accounting concept driving your bookkeeping and analysis. Get the data you need in simple terms you understand so you can get back to growing your business.
5. Not Staying Ahead of Receivables
You get busy. There's never enough time in the day. So when a client pays their invoice, you happily deposit the money and promptly forget to mark the invoice as paid so your receivables are accurate. You think, "Oh, I'll do it later." Days blend into weeks, and eventually at tax time your controller services firm is left with a tangled mess where revenues don't match receivables. You waste more time and money trying to straighten it out. Even worse, you can't separate out what still needs to be paid, leaving you at potential risk for critical cash flow issues.
Accounting concerns sometimes take a back seat to other things when starting and expanding a business: product development, sales and IT take center stage on most days. However, the truth is that accounting is the source of critical data that gives you the feedback you need to make accurate decisions--such as where you can expand investments and where you might need to cut back in your business development. As you grow, consider the impace that professional, outsourced bookkeeping services can have on your bottomline. Turn these five accounting mistakes into advantages, and your business will be happier, healthier and more profitable.