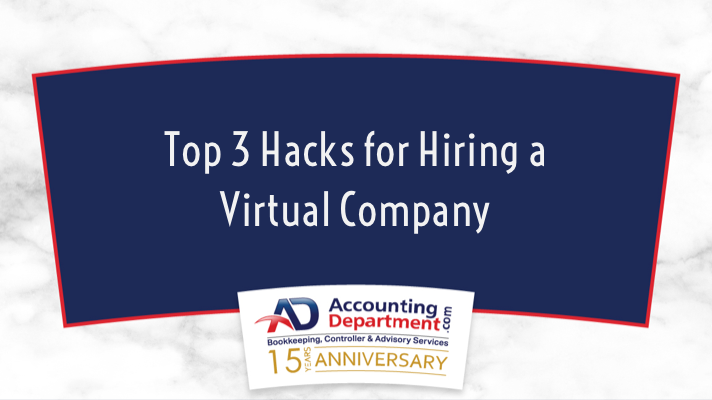 Trying to find your footing in the virtual world? One of the latest challenges to befuddle business owners is comparing and choosing between virtual service partners. With not much more to go on that individual experience and the "snazzy" level of the website, it can be hard to feel confident that you're putting your trust in the right place. With over 16 years' experience providing services virtually, we've come to learn a thing or two about how to hire vendors virtually.
Our top three hacks for sizing up a company when you can't meet them in person (and even if you can!):
Look for well documented processes and procedures

The first place to compare is in how well your prospective service partners have documented and structured their procedures. If they can't show you what drives their operations, run for the hills. If every tasks, process, procedure and operation is well documented across the organization, you're dealing with a reputable company that takes care to provide quality and stability.

Verify the team's location and background

It's very easy to build a beautiful website. But that likely has nothing to do with the team providing the services. Ask about their team—are they full-time employees, freelancers or located overseas? You may have some flexibility when it comes to whether their structure works for you—but you should always know who is going to be working on your account. Our clients know our entire team are full-time, W-2 employees of our company, and all located within the US. But you may be surprised to find some of our competitors are outsourced the vast majority of their operations to areas such as India or the Philippines. Know where your information is going and who you can count on to work on it.

Find out how they handle when it all goes wrong

You will… have an emergency. Make a mistake. Need to handle something urgently. When everything suddenly becomes urgent or something goes wrong, what is the process to handle it? Your prospective service provider should be able to clearly explain how they handle issues that arise—and we recommend you run from anyone who says problems won't happen. Issues may arise in any situation, no matter how perfectly planned for, and how your outsourced company plans to address problems is far more important than promising it won't happen.