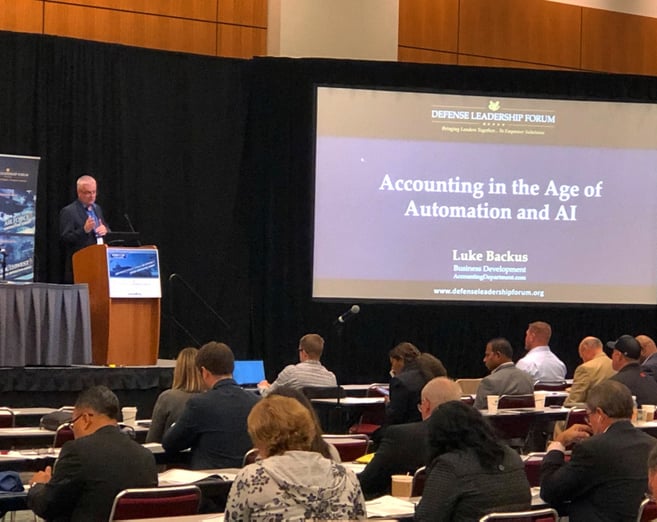 (photo of AccountingDepartment.com's Representative, Luke, Speaking at the 2019 West Coast SBDC Summit)
The passing and official signing of the $2.2 Trillion Economic Stimulus Package has made way for urgent support to be funneled to businesses, providing more than $350 Billion. We have been working diligently to bring our clients the best resources to help guide their decision making. For our GovCon clients, we found the National 8(a) Association COVID-19 Resource Page & Defense Leadership Forum. Both organizations have been active in putting on several webinars dedicated to answering the burning questions that are on the minds of all small business owners and government contractors.
In case you haven't heard the National 8(a) 2020 Small Business is holding a webinar for government contractors on Wed, May 27, 2020 2:00 PM - 2:30 PM EDT on Blending Your Banking Options to Keep Your Business Afloat.
Join Edward D. Spenceley, a Senior Vice President at Bank of America and the Government Contracting Specialist for Global Banking and Markets, and Melissa Szasz, Deputy Director of the National 8(a) Association, for a discussion on how to blend banking funding options during and after the current COVID-19 pandemic.

Takeaways:

• Small Business Association's Paycheck Protection Program

• Leveraging additional funding resources

• Impacts of current economic times and changes you might implement for future needs
Click here to learn more and register.
GSA-

Related Information

The U.S. General Services Administration (GSA) have made a comprehensive list of frequently asked questions and acquisition information. You can access their full response and FAQs here. FAR and aquisition.gov have collected lots of resources to assist government contractors. You can find OMB Guidance and Memorandums here.
From Aquisition.Gov

Government Response to Coronavirus, COVID-19
Quickbooks: Survival Tips
Quickbooks put out a webinar to assist small businesses to manage the ups and downs that has resulted from the current coronavirus pandemic. You can find in-depth information, tips and support here.
1. Be bold. Ask for help

2. Embrace customer loyalty

3. Go Digital

4. Cutting Costs. Plugging the gap.

5. Research free and low cost tools to optimize your customer reach on digital and social platforms.
Follow us on Facebook and Twitter for more updates!