It is that time of the year again, tax season. Many businesses dread this time of the year - it's tough. But thankfully not as tough when you have the unrivaled support of AccountingDepartment.com.
"1099 Season" spans from the beginning of the year until January 31st, and during this time, the team at AccountingDepartment.com is hard at work to prepare and review over 6,000 1099's for our clients.
It's an all-hands-on-deck approach after our bookkeepers collect client W9s throughout the year, prepare the 1099 reports, and submit them to the 1099 Review Team. The 1099 Review Team works on a tight, 10-day deadline to review all of the 1099 Forms for accuracy. To help meet the end-of-January deadline, employees from other areas of ADC volunteer their time to help, along with managing their own day-to-day workload.
Completing the tasks of 1099 Season each and every year is truly a testament to how great the team here at AccountingDepartment.com really is and for that, we celebrate on the first Friday of every February with a pizza party to conclude the 1099 Season!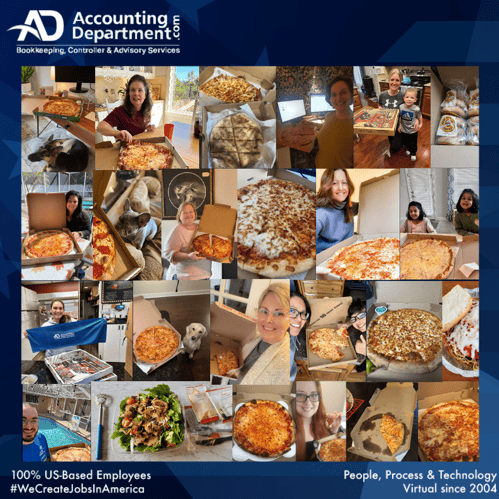 AccountingDepartment.com 2022 Pizza Party
Now it may seem odd for a fully-remote company that spans across the United States to be having a pizza party, but our amazing HR team gets together every year to coordinate the delivery of large cheese pizzas to every single employee in the company. That's over 185 pizza pies!
With that, we would like to congratulate our entire team on a job well done and a happy end of January. We hope you enjoy your pizza!