Every year, AccountingDepartment.com encourages all employees to challenge their health and fitness goals by creating a "miles-based challenge" to inspire everyone to get up and move over the summer. As work-from-home employees, you might imagine that we risk more sedentary lives than others and since extended sitting is as dangerous as smoking these days, supporting employee wellness is a top priority for us! But this year, we added another layer to our challenge. In addition to giving employees the opportunity to rise to their personal challenge of walking, running, swimming or biking 100, 200 or 300 miles (around the virtual Cape Cod trip we have planned), every participating employee is also given a platform to use their efforts to fundraise for a local cause! With nearly 100 employees spread across the US, this allows our company to help support hyperlocal, regional and national charities directly tied to employee interests!
So where did this come from?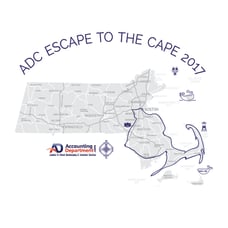 Well, way back in 2014, AccountingDepartment.com co-founder Dennis Najjar recognized that our entirely work-from-home employee ranks was statistically primed to run a greater risk of health and wellness challenges due to an increased likelihood of sedentary lifestyle. Short version—work-from-home employees may naturally get less exercise unless challenged otherwise. So Dennis came up with an idea to reward any employee who walked 150 miles or more between Memorial Day and Labor Day. Since then we have earmarked every summer to revamp our health and fitness goals, challenge employees to conquer new goals and, simply, get moving. This year, we've kicked it up even further—with a "virtual trip" to Cape Cod, an option to conquer 100, 200 or 300 miles, a charitable component, and even an extension of the challenge to our clients as well.
How do we do it all?
We use a combination of applications to host and manage our virtual trip. Stridekick was introduced to our company last year and it hosts our "trek" along the plotted course, allows us to see where each participant is on the map, and helps keep participants accountable and engaged. CrowdRise is new to our challenge this year and enables us to create a platform where each participant can select and highlight their philanthropy of choice, explain their mission and share their stories with the world. Finally, a dedicated page on our site houses our resources, updates and information on how to sign up and stay involved.
What's in it for participants?
For starters, the core of this is always to support a healthy lifestyle among our employees. Encouraging physical movement and lighthearted competition has led to some awesome success stories here at AccountingDepartment.com. We have employees who have, after having joined our challenges and fitness groups, completed half marathons, conquered the 2 Day Avon Walk for Breast Cancer, lost significant weight, tried new fitness classes and activities, and even encouraged their friends and family outside the company to get involved.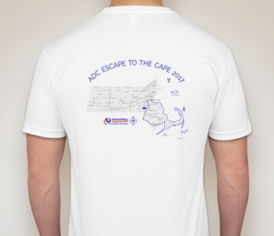 But as we all know, SWAG is always a motivator and of course this challenge has its own to boast. All participants get a custom, top quality jersey knit t-shirt with the event logo. They also get the ability to choose the charity of their choice—and the top client fundraiser and top employee fundraiser each get their funds matched, up to $500 each.
All employees and clients of AccountingDepartment.com are eligible to participate.
How do you get involved?
Become an employee of AccountingDepartment.com!
Become a client of AccountingDepartment.com!
Sponsor a member (or several) of AccountingDepartment.com on the CrowdRise event page. You can view all participants' stories and select the people or charities that you want to support.
Have questions about the challenge? Contact Marketing@AccountingDepartment.com and we'll be happy to answer any questions or comments!