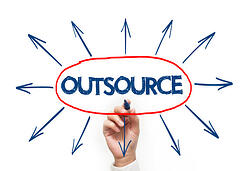 As we wrap up the last week of our Accounting Education Back to School Series, we're taking a close look at a subject near and dear to our virtual accounting hearts: Outsourcing. As a leading provider of outsourced accounting and bookkeeping services, we know firsthand the benefits of outsourcing business processes--and we also have an intimate understanding of many of the concerns that SMB owners have when considering whether or not to outsource.
From simply making the decision to outsource, to weighing the pros and cons of outsourcing your accounting services, to exploring other options for outsourcing, such as outsourcing your HR, we've got you covered on things you need to know and consider before deciding to outsource. And if you have any questions or want more information on topics we covered, please don't hesitate to ask!
Is Outsourcing Right For Your Business?
Is the Job Ongoing or Limited?
For time-limited jobs, such as special projects, it just doesn't make sense to hire someone, because once the project is completed you'll be faced with letting them go even if they've done a stellar job. Certainly, there are many cases when it makes sense to outsource ongoing work such as accounting services, but in cases when the job has a time limit, outsourcing is almost always your best alternative. You can find an outsourcing company to manage the workload quickly, and their employees are already trained and ready to get the job done.
What Is Your Budget?
Most professionals – such as CPAs, marketing experts, and IT professionals – demand salaries upwards of $50,000 per year, plus benefits. In these cases, it is generally less expensive to outsource than to pay these salaries. Many times, companies are able to outsource jobs and eliminate the overhead of office space and equipment, insurance, and other employee costs. The exceptions are very small businesses with limited monthly needs for professional services. In these cases, hiring an independent contractor is usually the best alternative.
Is the Job Mission Critical?
Jobs that fall within the production area of your business are almost always best done in-house, unless temporary workers are needed until you can hire and train a sufficient workforce. Small businesses can then outsource the support work – such as accounting services, cleaning services, and other non-production jobs. This allows the company to focus on their core activities and build a suitable, well-trained workforce of essential employees before bringing non-critical jobs in-house.
Does the Job Require Special Expertise?
Jobs that demand a high level of expertise or specific training can easily be outsourced, especially in a growing company that can't yet support a professional on staff. Examples of these types of workers include lawyers, computer specialists, and bookkeeping. Outsourcing gives smaller companies the opportunity to get the benefits of experienced professionals without paying them full-time. This is especially true of jobs that require expertise when you don't have enough work to justify a full-time employee.
The Pros and Cons of Outsourcing Accounting Services
Today's most successful small business entrepreneurs are smart, industrious, and customer-oriented. They flourish in a world that is both intense and exhilarating, where no two days are ever the same. Indeed, they sometimes spend their days putting out proverbial fires, and their nights handling paperwork. SMB owners wear a lot of different hats, from human resources to marketing professionals, writers, and employee supervisors. One of the biggest pain points for small business owners is keeping their thumb on the company's finances. Considering professional accounting services is a prudent idea. Still, finding the business professionals that are right for your business can be challenging, and outsourcing these key functions is not for everyone.
Here are some pros and cons of outsourced accounting, along with some tips to make the choice easier.
Pros of Outsourcing
Outsourcing removes accounting and financial tasks from your daily to-do list.
Outsourcing can be cost-effective, as you will not need to add an employee to your payroll for these tasks.
Accounting firms will record and maintain your financial transactions accurately and deliver the work quickly.
Firms typically only employ well-trained professionals, so quality work is ensured.
Accounting services firms can handle as much, or as little, of your financial work as needed.
Most firms will do data entry, bookkeeping, payroll, and taxation, among other tasks.
Outsourcing your bookkeeping leaves you with more time for more important duties.
Boosts in productivity are seen when owners and employees have time to focus on the customer and not handle administrative chores.
Smart accounting agencies will utilize the latest technology to gain efficiencies and controls, and set regular parameters for reports and other communications.
Cons of Outsourcing
You will be laying your business bare to an outside source; this is a step many SMB owners have difficulty with.
You must do adequate research to find a reputable accounting services firm that you can trust.
Not every firm can handle each of the needed aspects of your bookkeeping. Be sure to explore this and be sure that what you need is included in your contract.
Likewise, some firms offer a limited service contract that covers daily transactions, but charge for month-end closings or tax filings. Forewarned is forearmed.
Costs might seem prohibitive to you; compare these to what hiring help would cost, or how many hours of your own time it would take to complete. These numbers will give you some guidance on how best to proceed.
Outsourcing your accounting services can give you back hours to focus on your customers and on growing your business. By doing your homework and setting expectations with your chosen accounting firm upfront, you can make the transition to outsourced accounting services smooth and the partnership successful, freeing up your most valuable resource – your time.
Outsourcing Your HR
Outsourcing makes the modern business world go round. An increasing number of enterprises have shifted from a monolithic corporate infrastructure to a more flexible, cost-effective one. For many businesses, this means turning more and more core tasks over to third parties. Outsourced accounting, outsourced bookkeeping, outsourced IT – you name it, some company somewhere has decided to outsource it. Your own company may be outsourcing some core functions already. But did you know that you can also outsource many of your HR work? Well, you can, and outsourced HR might just save your business a lot of effort, time and money. Let's examine some of the advantages:
Foolproof Financial and Legal Compliance
If you have employees, you have potential HR compliance issues. Workplace laws continue to evolve and change from year to year, and it's all too easy to make that one tiny slip-up that opens the door to lawsuits, audits and other problems. A HRO (human resources outsourcing) firm can keep up to date on these issues and make sure everybody learns, understands and obeys clear-cut rules.
Affordable Expertise
For the price of maintaining one reasonably seasoned HR veteran on your staff, you can most likely outsource an astonishing number of this equivalent through a HRO firm. According to Dan Hettrich of AcadiaHR, you may only pay around $550 to $800 per year for an outsourced employee that would normally cost you more than $67,000 in annual salary, benefits and associated expenses. That adds up to a lot of skill and expertise for your dollar.
Greater Productivity
Do you have employees forced to assume routine HR tasks in addition to the work they were actually hired to do? Outsourcing lets you relieve your core team of the more time-consuming HR tasks so they can focus on larger strategic issues impacting the company's future. You'll get better results from more focused personnel, all without missing a beat HR-wise.
Higher Employee Retention and Satisfaction
CPEhr points out that HROs can often provide a wider range of benefits for employees than most small-to-midsize companies could hope to provide directly. These may include insurance package options, financial services, employee assistance programs and other perks that inspire loyalty and attract a higher calibre of worker. Happier, harder-working employees mean less attrition, better attendance and higher overall morale at your company.
Different outsourcing companies will offer different rates and conditions, based in part on how many employees you have and how many of your current HR functions you wish to outsource. Take the time to contact a few such firms – you may be pleasantly surprised at just how nimble your company can get!
Think your business is ready to take the next step towards outsourcing your accounting services? Our accounting and bookkeeping experts can help assess your situation and find opportunities to outsource, automate and streamline your accounting processes. Schedule a free consultation today!