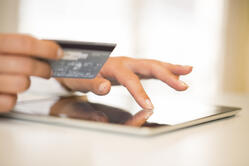 One of the most common complaints we hear from incoming clients is staying on top of their accounts receivable. They often find themselves without the ability to track or manage outstanding invoices, resulting in extra work, wasted staff resources and reduced profits. But finding ways to improve accounts receivable processes can be overwhelming, especially in small businesses and with limited resources.
Whether you're exploring outsourcing your accounting services or simply looking to improve the way you manage your local bookkeeper, the following tips are intended to help shed some light on the common pitfalls stalling your accounts receivable.
4 Accounts Receivable Tips for Small Businesses
Of all the accounting services crucial for small business success, accounts receivable may just be the most important. Why? Because this metric measures the lifeblood of your business: cash flow. You may have a phenomenal marketing team and the best sales force but if the cash isn't coming in your business will struggle to make its own payments. Below are some suggestions for using accounts receivable to maximize your profits and success.
Invoice Promptly
You should invoice your customers immediately in order to make sure your services are fresh in their minds. After all, if it takes months for you to send out the invoice, are they really going to be in a rush to pay it? QuickBooks allows you to create and send invoices automatically. Emailed invoices are even better, leaving little chance of a customer saying your invoice got lost in the mail.
Send Monthly Statements
As part of your accounting services package, monthly statements are an essential for keeping money coming in, especially for customers you work with frequently. Invoices can be put aside and forgotten about, but if your customer is receiving a statement of their account every month they'll know exactly what they need to pay and when. You can also reconcile the statement to make sure they have all of your invoices.
Monitor Aging
The QuickBooks aging summary report shows you customer account balances at a glance, so you can quickly view accounts that are overdue by 30 days, 60 days or even longer. The more overdue an invoice becomes, the less cash you're pulling in that month. Aim to stop 30 days delinquencies from snowballing to 60 days delinquencies and so on.
Chase Overdues
It can be difficult to pick up the phone to make a call to a customer with an overdue balance, but it's vital that you chase payment as soon as an invoice comes due. Your customer might have missed their payment because it slipped their mind, because they're having issues with their payment process or for many other reasons. The point is, you won't know until you make contact with them. If you struggle with making that contact personally, QuickBooks can be set up to send reminders at certain points. Automating as much of the process as possible will greatly improve your return rate.
Managing accounts receivable can seem like a daunting part of overall accounting services, but with an automated system and increased knowledge of the process, you'll find it's actually a breeze to have customers that pay on time, every time.
Need help managing your accounts receivable processes or setting up new automated AR systems? Our bookkeeping experts can help relieve you of this responsibility and help you get paid quickly and efficiently. Contact us to find out how today.