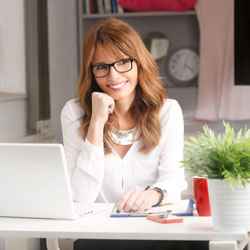 At AccountingDepartment.com, we generally use QuickBooks or QuickBooks Online for our clients accounting and bookkeeping services. We believe it suits their needs and works for our goals. However, we also recognize that in an ever-changing accounting technology world, we must stay abreast of current trends in accounting software and be ready to provide insight, recommendations or even assistance with other accounting solutions. So for those of you wondering about QuickBooks alternatives, here are a few options we're keeping an eye on these days:
If you've ever heard of Peachtree, this is its new name after being rebranded. It is also one of the only serious competitors to Quickbooks for users needing an on-premise accounting solution, which would definitely come in handy if you often find yourself lacking a strong internet connection while working.
Pros
On premises accounting
Comparable pricing to Quickbooks. (Sage 50 is $369 for an individual user, Quickbooks is $250 for Pro and $400 for Premiere, so Sage 50 falls directly in between)
Similar features to Quickbooks
Cons
Not Quickbooks. (While the features are similar between Quickbooks and Sage 50, many users find their experiences vary greatly between the two; your best bet is try out a demo of both and see which is right for you)
Like Sage is to Quickbooks, when it comes to on-premises accounting, Freshbooks is considered the main competition to Quickbooks Online for web-based accounting. Freshbooks has gained popularity behind a reputation for being extremely user-friendly, allowing work to be completed at a quicker pace and freeing up time to be used for other tasks. Plus we just hung out with them at GrowCo in Nashville, so they deserve a shout out for their great juice bar!
Pros
Price. (For an individual user with two or three clients being billed, the cost of the software is free, however if you have a large client base being billed the cost jumps to $30 or more than twice the cost of Quickbooks Online entry level version.)
User friendliness. (By eliminating some of the accounting tasks that Quickbooks is able to perform, it allows users to focus on a more specific set of tasks, to eliminate confusion and save time. Couple that with a simple, easy to use interface and basic setup, and it's definitely a positive.)
Integration with other programs. (Freshbooks can easily be integrated for use with programs such as ConstantContact, MailChimp, BaseCamp Classic, Zendesk, etc.)
Cons
Price. (While price is one of the pros of this software, it's only a pro if you have very limited client billing, otherwise it is a con. If you have several clients than the price more than doubles that of Quickbooks Online.)
Functionality. (While the lack of options makes it easier to navigate and use, it also causes it to underperform when compared to Quickbooks. The lack of payroll, check register, and limited expense management make Quickbooks far superior, unless of course you don't require this options.)
Xero prides itself on the program's ease of use, which focuses on importing daily bank transactions. And they're making big waves in the cloud-based accounting software field, so definitely worth keeping an eye on!
Pros
Price. (At a cost of $19 a month for up to five invoices, or $29 a month for unlimited invoices and users, the price is definitely right.)
Integration. (Xero is compatible with other programs such as payroll, CRM, etc.)
Cons
Functionality. (While Xero is very good at what it does, it also lacks the ability to tackle tasks in the way that Quickbooks does.)
Not sure what program is right for you? We can help you determine your accounting needs and get you set up with bookkeeping and controller services to suit your small business.