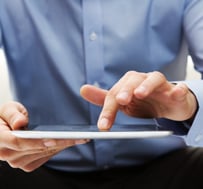 Running a business is a twenty-four hour job, especially when there is a lot of work to be done and not enough people to do it. One of the most important tasks that cannot fall through the cracks is your accounting services. When you cannot hire a full-time bookkeeper to keep your processes in order, knowing what to do and having the right tools to help you do it will be invaluable to the stability and longevity of your business.
Everyone wants to have the proper bookkeeping services on hand, but it may be advantageous for you to contract with an outsourced accounting or outsourced bookkeeping firm to take care of the monthly balance sheets and taxes while leaving the day-to-day tasks in-house. Modern technology has made a tremendous difference in the way businesses are run and there are many accounting programs that will keep your books in order even when you are consistently on the go. Here are a few noteworthy applications that are functional and budget-friendly:
This is a very popular cloud-based accounting program that helps you keep your finances in order, issues invoices and keeps track of all your employee hours, online payments, upcoming dates and more. This program is good for single or multiple project management. There are also add-on services that can be exported to your outsourced accounting services firm.
QuickBooks is one of the most popular accounting software programs around and is used by millions of businesses on a daily basis. This is why the manufacturers decided to make it easier for their customers and provide an online option that is accessible from anywhere in the world.
This program is in the top five for accounting programs based in the cloud. Kashoo allows any small business to connect directly to their online banking system, create invoice and download and reconcile bank and monthly statements in an expensive and easy-to-use format.
This is a real-time program that allows you to monitor and share your financial information at one time. You can also work as a team with this program, allowing access to a number of individuals if working on projections or other projects that need real-time data.
As a business owner, there's never a dull moment. These programs can help make your life a lot easier, while keeping a close eye on your business finances. Being able to conduct business on-the-go is a well-deserved perk for all your hard work. Simplify your accounting with a cloud-based application and help your books stay in the black.