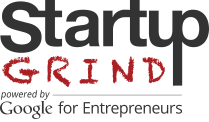 Two weeks ago, over 1,000 techies, entrepreneurs and startup geniuses descended on the Computer History Museum in Mountain View, CA to network, educate and learn at the annual Startup Grind conference. After 2.5 days worth of informative and enlightening sessions led by some of the top minds in tech and business, we're pretty sure attendees got everything they hope for—and more! In case you missed it (or just want to relive the magic), here's a quick rundown of the event's highlights… as seen through the eyes of AccountingDepartment.com of course.
Monday, February 3:
70+ chapter Directors, clad in some nifty "DIRECTOR" jackets courtesy of Google Entrepreneur, descended on the opening reception for a few hours of cocktails and one great opening keynote by Ben Horowitz, of Andreesen Horowitz. Horowitz spoke frankly and honestly about failures, triumphs and everything in between. Budding CEOs, Founders and entrepreneurial hopefuls left with a ton of great takeaways—not least of which was the encouragement to take risks.
We met a lot of great chapter Directors as well as general attendees and were really excited to kick off Tuesday (ok, and yes, a bit exhausted as well). We retreated to the Hotel Avante, a very cool, inspiring hotel replete with rubik's cubes and etch-a-sketches, to get ready for the first full day of sessions. If nothing else, we needed to be well rested before hearing from such visionaries as George Zachary and MC Hammer.
Tuesday, February 4: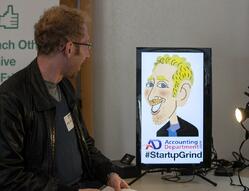 We kicked off the first full day of sessions with Zach Trenholm, our resident digital caricaturist for the day. Caricatures are near and dear to our hearts—part of our company brand, every employee of AccountingDepartment.com gets their own caricature on the Entire Team page of our website as well as for their Outlook v-card and Skype account.Representative of our brand, we wanted to extend this fun to Startup Grind attendees. Zach, a bit of a legend in the Bay Area, did not disappoint. He worked tirelessly, cranking out perfect digital iPad caricatures one after another all day long. There was always a line… and we had some serious fun!
We also had a chance to meet hundreds of conference attendees, learn about their products and company ideas—companies in stages as early as simple ideas all the way through receiving second rounds of funding or simply reaching profitability (ah, if only it were that "simple"!). And of course, we had an opportunity to discuss some of our services with attendees in need of accounting, bookkeeping and controller services. We met founders who needed payroll support, who were moving their businesses to the US and needed general bookkeeping services, and others who were growing at a rate that outpaces their current accounting and bookkeeping abilities.
We also had an opportunity to check out more of the conference. Bill Gerber, AccountingDepartment.com's Co-Founder, was interviewed for MSNBC's Your Business, a national show airing on weekend mornings (stay tuned – we're waiting for notice on when the spot will air). We met some great co-sponsors, including TriNet, samepage.io and 99 Designs, and got a chance to see both George Zachary and MC Hammer speak. After the day's events, we trekked to Microsoft's newest office for a post-event cocktail party and a lot of fun was had by all.
Wednesday, February 5: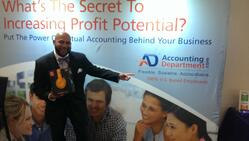 The last day of Startup Grind was met with a mix of excitement and sadness. We were excited to announce the winner of our raffle (for Beats by Dre Studio 2.0 headphones in an awesome orange color!) and to meet attendees we may not have met on Tuesday, but we were also sad because we knew we would be packing up soon.
A quieter day, we had an opportunity to discuss individual company accounting and bookkeeping needs in further detail than on Tuesday. Some of the attendees expressed interest in learning more about new cloud-based accounting solutions, such as QuickBooks Online. Others discussed particular issues they were having, including inventory and forecasting concerns. Bill advised on many of the concerns and offered to assist further after the conference. (We're feeling pretty good about it!)
All in all, a great time was had by everyone at this year's Startup Grind. It was our first time at this event but we highly doubt it will be our last. We can't wait to get back!