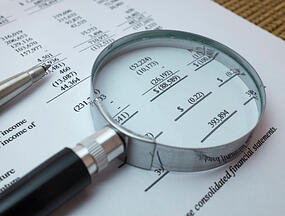 Virtual accounting is a term that describes nearly any type of accounting that's not done in your own company's offices. If your bookkeeping and accounting is handled overseas, around the block, or somewhere else in your region, and you access your files online, it is considered virtual accounting. But not all virtual accountants are the same, so it's important to understand the virtual business solutions you're getting before you hire a firm.

Does Your Virtual Accounting Firm Have Someone Overseeing Bookkeepers?
Accounting fraud is a big deal for small businesses. With some virtual accounting firms, you may not see any checks and balances within the accounting department. That is, no one is checking the bookkeeper's work, so errors, or even theft, can happen that can result in profit loss for your business.

Be wary of hiring a one-person accounting firm, where only one person handles your books month after month. If you don't watch them carefully, you could find your company becoming another statistic in the growing number of companies that fall victim to accounting fraud.

On the other hand, a virtual accounting service like AccountingDepartment.com assigns a financial controller to oversee every bookkeeper. The financial controller manages the bookkeeper to make sure they're fulfilling the Service Level Agreement, and also checks their work on a regular basis to spot errors right away, before they affect your business.

Let's explore a few other ways virtual accounting provides checks and balances for your business to protect you from theft and accidental errors.

Virtual Accounting Doesn't Keep the Same Bookkeeper in the Same Role Forever
One of the reasons it's so easy for in-house bookkeepers to steal from employers is because employers tend to lose track of their books. They figure they have a competent employee handling the books, so they never give them a second glance. Then checks start to bounce and something seems to be wrong with the company's cash flow statements, and the business owner realizes his trusted bookkeeper has been stealing.

If your in-house bookkeeper has never taken a vacation because "no one else could do the job," that's a big red flag that you could be a victim of corporate theft.

With the large staff of bookkeepers at AccountingDepartment.com all following the same processes and procedures, it's easy for another virtual accountant to step in and take over. And, in fact, we mandate that our employees take vacation time, so you don't have to worry about one individual having complete, autonomous control over your books.

Virtual Accounting Means No Paper Checks to Steal
You'd be amazed by the amount of corporate fraud that is "low-tech," including petty cash pilfered from an unlocked desk drawer, or checks written out to a fake company name and cashed by an employee. In some cases, employees are working in tandem with the in-house bookkeeper to execute schemes; other times, all it takes is a careless bookkeeper who leaves her computer on and her desk unlocked.

With a virtual accounting service, all checks are posted electronically with your permission, so you don't have any paper checks in your office to worry about. The bookkeeper will never handle your company's petty cash. As far as employees accessing bookkeeping software through the accountant's computer? That's impossible since your virtual accountant works from a dedicated home office hours away from your place of business. If she leaves her computer on, the only person who is likely to see it is the cat.

No Matter What Happens, You're Protected
It's a sad fact that 51 percent of employers who experience corporate theft never recover their losses. A quality virtual accounting firm carries E&O Liability insurance, which means that you are protected from even the slimmest chance of theft or bookkeeping errors.

When you select the right firm, choosing virtual accounting as one of your top virtual business solutions can give you the peace-of-mind you've been seeking about your company's finances.