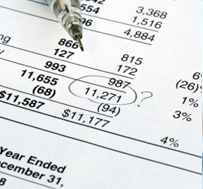 In today's economy, most small business owners are looking to reduce costs and increase profitability. Many business owners have discovered that virtual accounting services save money and provide many added benefits, too.
Reducing Costs with Virtual Services
You may be looking at certain job functions and departments to determine if you can cut costs in any way, either by shifting to part-time employees, implementing desk-sharing and telecommuting to reduce infrastructure costs, or moving to independent contractors to replace full-time employees.
The benefits to outsourcing certain business processes are vast, and fairly well-known. Using workers who are not your direct employees:
Reduces infrastructure costs in terms of office space, supplies and utilities
Reduces the costs of employee benefits, especially with the recent changes to our nation's health care system
Reduces costs on social security and unemployment taxes
Minimizes the time you have to spend managing these business processes
A service level agreement helps ensure quality
Virtual Accounting: When You Don't Need a Full-time Bookkeeper
Clearly, not having a full-time employee come to your office is going to reduce your costs. But that doesn't mean quality virtual accounting services come "cheap." You'll save money with virtual accounting. You may even cut your bookkeeping and accounting costs in half. But that's not because you're getting a cut-rate bookkeeper who works in a call center halfway across the world. In fact, you save money because you're paying only for the services you need, saving on infrastructure costs, and getting greater value for your dollar.
In general, most AccountingDepartment.com clients don't need a full-time bookkeeper to spend 40 hours a week managing their books. But very few high quality bookkeepers want a part-time, in-house position with a company, because they don't want to sacrifice a full-time salary and benefits.
When you work with AccountingDepartment.com, your full-charge bookkeeper is a full-time employee of AccountingDepartment, working with a stable of clients every day. Our virtual accountants manage your books on a daily basis for as long as it takes, and move on to the next client. But they are always available via email or instant messenger (and phone or Skype, when necessary) to answer questions or provide accurate, timely financial reports when you need them. You get a quality bookkeeper, but pay only for the hours you need. AccountingDepartment finds, hires, trains and retains happy, productive employees. It's a win-win.
Virtual Accounting: More Than You Expected
It's great to know you can save money and have the benefits of a full-charge bookkeeper without paying full-time employee prices. But our virtual accounting service provides even more, functions you didn't know you could afford, at just a fraction of the price you would pay employees.
Along with a full-charge bookkeeper, you'll benefit from the knowledge and expertise of a financial controller. In-house financial controllers and CFOs often come with six-figure price tags, depending on where your office is based, and many business owners with revenue in the $1 to $25 million range can't afford to hire a full-time financial controller.
But AccountingDepartment clients receive financial controllership services as part of their monthly contract. This person oversees the bookkeeper and provides services that include financial analysis and financial forecasting. All for less than the price of a full-time, in-house bookkeeper.
To learn more about how virtual accounting and bookkeeping can help you build a better business, click the button below to register for our free webinar on November 14th at 2pm EST.