JUNE 19, 2019—ACCOUNTINGDEPARTMENT.COM CEO Bill Gerber has won a Glassdoor Employees' Choice Award honoring the Top CEOs in 2019. Glassdoor, one of the world's largest job and recruiting sites, released its annual award recognizing the Top CEOs, which highlights top leaders that employees love working for in countries throughout North America and parts of Europe.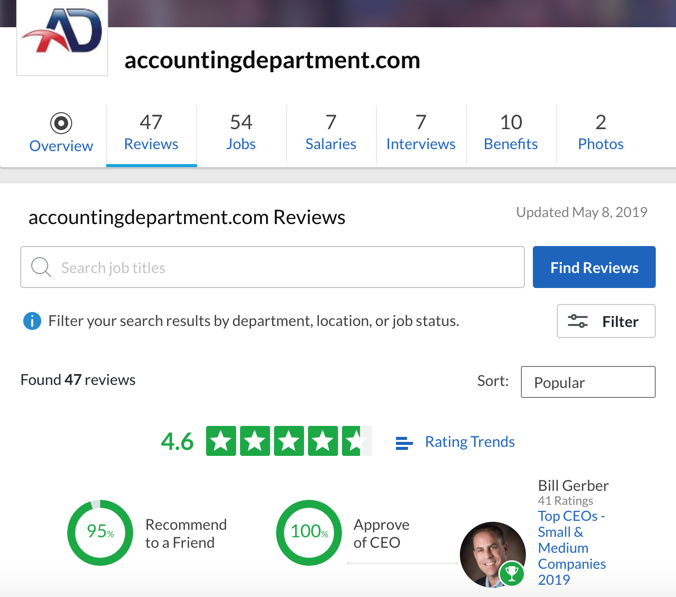 Among chief executives recognized by employees of small and medium sized businesses in the U.S., Gerber received an impressive approval rating of 98%+ based on the anonymous and voluntary reviews AccountingDepartment.com employees shared on Glassdoor throughout the past year.
"I would be remiss if I didn't immediately share the credit of this award with AccountingDepartment.com co-founder and my partner, Dennis Najjar. Together, along with Director Kris Merritt, we share the responsibilities of the 'CEO position' of this company. I am extremely grateful for their leadership and contribution to this award. Our entire team, from new employees to those that have been here from nearly day one are unmatched. They bring a passion and commitment that we could never hope to manufacture—and this award is really a testament to our authentic selves across the organization," said Gerber.
"It's an honor to recognize incredible leaders who, from their employees' perspectives, exemplify exceptional vision, trust and communication. Glassdoor's Top CEOs award continues to be more competitive every year, and I congratulate each leader on their achievement," said Christian Sutherland-Wong, Glassdoor president and chief operating officer. "Today's job seekers are looking for leaders who share their values and will empower them to bring their full selves to work. More and more, we're seeing Top CEOs make decisions to shape the culture of their organizations to help recruit and retain quality talent, which has a direct correlation to fueling business success."
When employees submit reviews about their company on Glassdoor, they are asked to rate various factors about their employment experience, including their overall satisfaction and other workplace attributes like senior management. As part of these ratings, employees are also asked to rate whether they approve, disapprove or are neutral about the job their CEO is doing. Among the approximately 900,000 companies reviewed on Glassdoor, the average CEO approval rating is 69 percent.
Glassdoor's Top CEOs in 2019 were determined using company reviews shared by U.S. based employees between May 2, 2018 and May 1, 2019. The final list is compiled using Glassdoor's proprietary algorithm, led by its Economic Research Team, and takes into account quantity, quality and consistency of reviews.
For the complete list of all Glassdoor Top CEOs winners in 2019, please visit: https://www.glassdoor.com/Award/Top-CEOs-at-SMBs-LST_KQ0,16.htm
About AccountingDepartment.com:
Powered by people, process and technology, AccountingDepartment.com serves the businesses of entrepreneurs, forward-thinking owners and executives, government contractors, and the like by providing an entire outsourced accounting department known for a level of expertise in processes and personnel commonly unattainable by small and mid-sized businesses. On a mission to empower businesses with accurate, timely and insightful financial data, our outsourced bookkeeping and controller services enable established, growing, and early-stage SMBs with between $1 and $50 million in revenue to access enterprise-level accounting department functionality without the corresponding prohibitive costs and infrastructure requirements typical of enterprise resources.
AccountingDepartment.com Media Contact:
Andrea Boccard, Media@AccountingDepartment.com
About Glassdoor
Glassdoor combines all the latest jobs with millions of reviews and insights to make it easy for people to find a job that is uniquely right for them. The company is on a mission to help people everywhere find a job and company they love. In pursuit of the mission, Glassdoor helps employers hire truly informed candidates at scale through effective recruiting solutions like job advertising and employer branding products. Launched in 2008, Glassdoor now has reviews and insights for approximately 900,000 companies located in more than 190 countries. For more information, visit glassdoor.com.
Glassdoor Media Contact:
Amelia Green-Vamos, pr@glassdoor.com