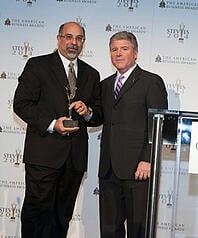 Today we are excited to announce that co-founder Dennis Najjar will chair the final judging committee for the Company / Organization Awards in the 13th Annual American Business Awards (Stevie Awards). Together with many of our industry colleagues and clients, we will spend time over the next two weeks reviewing all the finalists across many categories to decide the Gold, Silver and Bronze winners for this year's awards.
As a previous winner of the 2014 Gold Stevie Award for Company of the Year, Professional Services category, in addition to two 2014 Women in Business Stevie Awards, we are proud to once again participate in a prestigious Stevie Awards event. From helping SMBs with their bookkeeping and controller services needs to supporting excellence in the business community, we strive to give back as much as possible to growing businesses and we feel this is another opportunity for us to contribute.
We had the privilege of inviting some of our closest industry friends, including such accounting technology luminaries as TSheets.com and Tallie, in addition to many of our clients--business leaders and visionaries in their own right--to participate on the committee. As the final judging committee for the Company and Organization Award categories, all the judges are leaders in their respective companies and have significant insight and understanding into what it takes to exude business excellence.
For more information on our judging panel and to follow along with the results, check out the Stevie's Awards site.