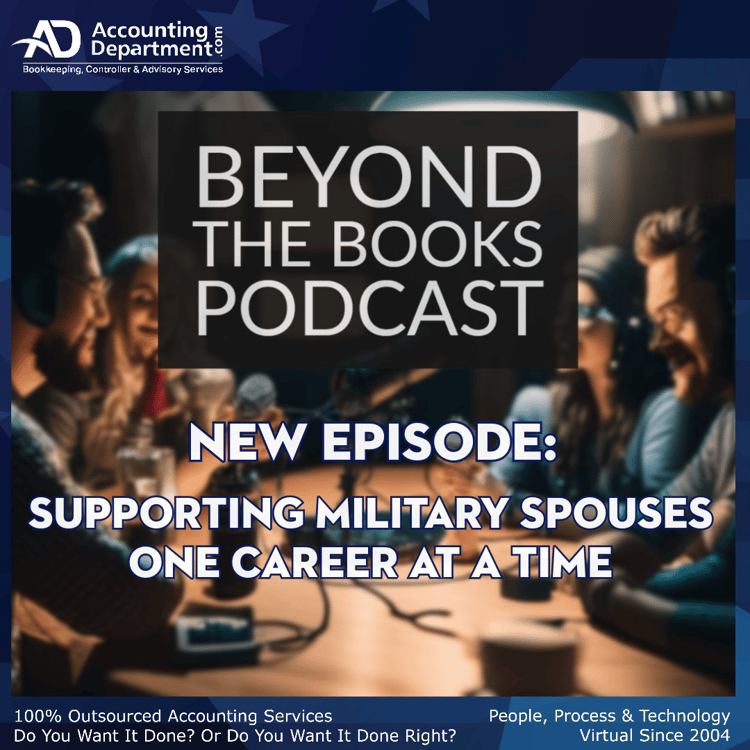 We are thrilled to announce that Episode 5 of our podcast, Beyond the Books, is now live and ready for your listening pleasure.
In this episode, we shine a spotlight on how AccountingDepartment.com has made it its mission to empower military spouses through meaningful employment opportunities. As a dedicated partner of the Military Spouse Employment Partnership (MSEP) program, ADC exemplifies the commitment to supporting the unsung heroes who stand by our nation's servicemembers.

Join our host, Kevin, and ADC MilSpouse, Stefani, as they delve into inspiring stories, explore the impact she's had on the lives of military spouses, and celebrate the strength and resilience of these incredible individuals. Get ready to be inspired by a company that's not just hiring talent, but also fostering a sense of belonging and support within the military community.



The Beyond the Books Podcast is here to unravel the secrets behind award-winning culture and explore the strategies, philosophies, and innovative practices that have transformed a distributed workforce into a closely-knit, motivated team. Beyond the Books provides actionable takeaways and inspiring stories to help you transform your own company culture, no matter where your team is located.
Happy listening, and thank you for your continued support!