Start With The Industry's Highest Hiring Standards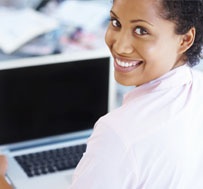 When it comes to the financial health of your company, you need an accountant who's not only qualified but someone you can trust. AccountingDepartment.com understands you can't risk even a possibility of inaccuracies and you don't have time to spend supervising a bookkeeper or accounting team while second-guessing the financial information presented to you. Your AccountingDepartment.com team consists of highly qualified individuals who have passed the industry's strictest testing and recruiting criteria.
Only 3% of our thousands of U.S.-based applicants qualify to become part of our Accounting For Excellence team, ensuring your accounting needs are met and your expectations exceeded. We are the best online accounting service in the industry.
Your financial records are not passed on to subcontractors, and no work is done overseas. AccountingDepartment.com also carries both professional liability (E&O) insurance as well as employee dishonesty coverage.
Finding skilled, experienced professionals to handle your daily accounting and bookkeeping is a laborious and time-consuming process. AccountingDepartment.com takes over the responsibility of staffing your accounting department.
Take A Glance At Our Hiring Stats:

We receive approximately 6,000 resumes per year
We test an average of 200 people a year
Only 5% pass our four-hour accounting & QuickBooks test
50% interviewed after passing the test meet our extremely high hiring qualifications
Accounting Qualifications And Requirements:
Bookkeepers are responsible for performing A/P, A/R, payroll and month-end closing services for clients via their home computer. They must be self-motivated and require minimal supervision, with excellent verbal and written communication skills. The ability to prioritize multiple clients' needs is a must. Bookkeepers must also have:
Four or more years bookkeeping experience
Experience providing A/R, A/P and payroll functions
Home office with separate work area, PC with Windows XP or later and high-speed internet acccess
An ability to dedicate eight hours of uninterrupted time per day to clients on a full-time basis
A high level of computer knowledge and organizational skills
Passed our four-hour test on QuickBooks and bookkeeping knowledge
References and go through our required background check
To maintain their certification annually, all AccountingDepartment.com bookkeepers are required to become certified QuickBooks ProAdvisors within six months of joining the AccountingDepartment.com team.