Exclusively for established and fast growing businesses across the U.S.A.
Welcome to AccountingDepartment.com, the leading provider of outsourced bookkeeping and controller services for growing and established businesses. As an industry agnostic, full charge bookkeeping company, we serve as the accounting department for businesses of all types, from rapidly growing professional service agencies and VC-funded startups to government contractors and large manufacturing companies.
Interested in becoming our client? Here is what you need to know:
Our Clients Are:
Industry Agnostic
Growing & Established Businesses, Non-Profits and Government Contractors ($1 million to more than $25 million)
Clients Come To Us For Many Reasons:
They have outgrown their internal bookkeeper, part-time bookkeeper, or DIY bookkeeping
They have been victims of bookkeeping fraud or theft
They lack processes and procedures and their bookkeeping is working against them
They need full charge bookkeeping services with CPA-level controller oversight
We're Different Because:
We customize everything to the unique needs of the client
We provide a dedicated team of full charge bookkeeper, accounting technology specialist and accounting manager or controller
We take over the full responsibility of your accounting department and ensure the processes and procedures we implement standardize and streamline your accounting
Our employees are full-time and 100% managed by us - you hire a company, not a bookkeeper.
Your Custom, Fixed Fee Bookkeeping Services Quote Will Be Created Via:
We conduct a demo to explain our services, understand your business needs and make sure we are a good fit
We provide an NDA and we will review your accounting data
We provide a proposal with multiple service options, all at fixed fees, so you can choose the one right for your budget and business needs.
Businesses outsource to us because we replace the entire accounting department, provide streamlined and standardized processes and procedures, and specialize in comprehensive accounting technology integrations.
Request a demonstration of our services to find out more about how we can help your organization.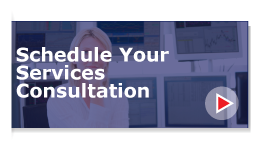 We're Different From Everything You've Known Before.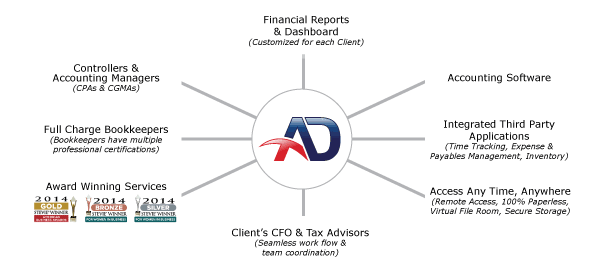 Some of the Accounting Department functions we provide are:
Accounts Payable
Accounts Receivable
Payroll
Time Tracking
Expense Reports
Job Costing
Departmental Tracking
Bank Reconciliation
Credit Card Reconciliation
PayPal Reconciliation
Prepaid & Accrued Expenses
Deferred Revenue
Budgeting & Forecasting
Month End Closing
Inventory Tracking
Sales & Purchase Orders
Work In Process (WIP)
Foreign Currency Management
Fixed Asset Management
W-9 & 1099 Processing
Sales & Use Tax Filing
DCAA Compliance
CFO, Tax Advisor & Audit Support