Comprehensive Online Accounting Services
For Growing And Established Businesses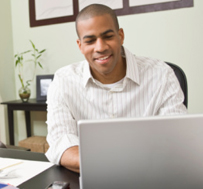 AccountingDepartment.com selects a dedicated team of accounting professionals to staff an accounting department tailored to suit your business needs. This team consists of a full-charge bookkeeper, an accounting software specialist, and a controller. Additional accounting staff can be added as required based on your business activity.

1) Full Accounting Department
Accounting Type: Cash or Accrual Basis Reporting

Staff Supplied: Controller, Full-Charge Bookkeeper, and Accounting Software Specialist

Clients with sales between $1 million and $25 million

Daily Accounts Payable, Accounts Receivable,Banking & Payroll maintained

GAAP based Financials
Provide Accrual Basis Reporting (including prepaid expenses, accrued expenses, accrued payroll, deferred revenue etc.)

2) Bookkeeping Service
Accounting Type: Modified Cash or Accrual Basis Reporting

Staff Supplied: Controller Oversight & Bookkeeper

Clients with sales between $500,000 and $2 million

Accounts Payable, Accounts Receivable, Banking, & Payroll maintained

Monthly Financial Reports



---
Your Full-Charge Bookkeeper
Your full-charge bookkeeper is responsible for daily entry of accounting transactions: vendor bills, customer invoices, bill payments, customer payments and deposits, other disbursements and withdrawals. The bookkeeper maintains complete and up-to-date detailed accounts receivable, accounts payable and cash account ledgers and provides daily or weekly reports on these and other critical areas of business management. The bookkeeper either processes payroll or makes the necessary entries to record payroll processed by a third-party provider. In either case, payroll entries will include complete recording of gross wages, employer tax and other payroll expenses, and payroll liabilities.
Your Controller
Your controller conducts a periodic review of your general ledger with the bookkeeper to ensure all activity is correct and all necessary cash-to-accrual or income recognition adjustments have been made. After each monthly review, the controller issues financial statements and locks your accounting data file for the period so that no data can be changed after the reports are issued without the controller's full knowledge and permission. The controller then distributes the financial reports package for the month to designated personnel at your company. This report package includes a management letter explaining the significance of your financial reports and calling your attention to critical business ratios and areas of concern. Also included is an invitation to meet with the controller for a thorough review and discussion of your financial reports.
Your Accounting Software Specialist
Your accounting software specialist ensures that your accounting data file is set up correctly to fit your business model and to provide the reporting functionality your business requires, and that your bookkeeper is fully trained in how to process activity appropriately in your accounting file. Although we specialize in QuickBooks and QuickBooks Enterprise Solutions accounting software, we can provide specialists in other packages such as BillQuick, Method, GHG Corporation, Connect+wise, Fishbowl Inventory, PDG Software & webKPI if QuickBooks does not meet your needs.
With AccountingDepartment.com's comprehensive virtual accounting services, all of your financial reporting needs are customized and then realized. When you partner with our team, you get scalable, actionable snapshots of how to steer your business towards success.
---
Accounts Payable Management & Banking
Record vendor bills
Record vendor, debit card, PayPal and electronic payments
Reconcile vendor statements
Accounts payable aging report
Accounts Receivable Management
Payroll Management
Sales & Use Tax Returns
Accounts Receivable
Accounts Payable
Cash Receipts
Payroll Services
Banking Activities
Business Filings
Bank Reconciliation
Income Statement
Balance Sheet
Maintaining A Clean General Ledger
Audit Help
Guidance and Consultation
A La Carte Services