From April 23 to 25, 2014, AccountingDepartment.com proudly sponsored the Women Presidents' Organization (WPO) at their annual conference in New Orleans. Serving alongside Coca Cola as the Key Card Sponsors for the event, we were privileged to meet an amazing group of empowered, successful women who are doing incredible and important things in their respective industries. For two days we engaged with, learned from and shared our services with the members of WPO--and here are some of the highlights:
WPO 17th Annual Conference, Day One: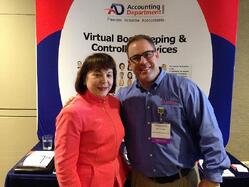 The conference opened Wednesday afternoon to exciting New Orleans-themed entertainment and fanfare. WPO President and Founder Marsha Firestone introduced the sponsors and committees, welcoming everyone to the opening session. Then Keynote Speaker Ping Fu, Vice President and Chief Entrepreneur Officer of 3D Systems, Inc. stole the show with an invigorating presentation of her life story and motivations. Her latest book, Bend Not Break, shares the entire story--it is truly amazing.
The Opening Sesson wrapped with an exciting New Orleans-style parade march, complete with masquerade and venetian masks, to Arnaud's, a well known dining landmark in the French Quarter. Conference attendees marched and danced their way from the conference to dinner and had a wonderful time!
WPO 17th Annual Conference, Day Two:
Thursday's sessions opened with morning exercise sponsored by Jazzercise and led by Jazzercise founder Judi Sheppard Missett--also a board member of WPO. Conference attendees were then treated to an enlightening opening keynote with Pavithra Mehta, discussing the epic story behind the Aravind Eye Hospital. A case study for business development and social entrepreneurship, the Aravind Eye Hospital is a story for all enlightened business owners.
After morning break out sessions, WPO conference guests were treated to another inspiring lecture during the lunch break by leadership expert and author Simon Sinek. Author of Leaders Eat Last, Simon discussed how the best leaders know how to build optimum working conditions and encourage development.
WPO 17th Annual Conference, Day Three:
We wrapped the conference with a motivating socialpreneurship study by Lauren Bush Lauren, CEO & Founder of FEED. She discussed how the conscious consumer movement is being driven by for-profit philanthropic businesses and how opportunities for merging philanthropy and good business are at the forefront of modern business practices.
AccountingDepartment.com Highlights: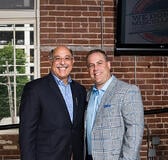 In case anyone was concerned, we also managed to fit in a little sight-seeing and business development of our own. AccountingDepartment.com leaders Dennis Najjar, Bill Gerber and Kris Merritt engaged in a new corporate photo shoot... and enjoyed some fine New Orleans delicacies. There is a lot of good food to be sampled down here!
About Women Presidents' Organization:
According to the WPO, they are a non-profit membership organization for women presidents of multimillion-dollar companies. Members of the WPO take part in professionally-facilitated peer advisory groups in order to bring the 'genius out of the group' and accelerate the growth of their businesses.