Meet Your Accounting Services Team
At AccountingDepartment.com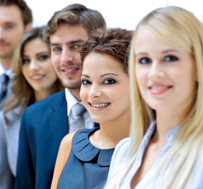 Our comprehensive, high-caliber accounting services provide you with the best possible online accounting support. With our 360° Accounting approach, you receive expert knowledge from accountants, bookkeepers and financial controllers to the advice of a strategic CFO. Your dedicated virtual accounting team is configured to fit your company's changing goals and requirements to create positive future financial projections. This type of full-circle service gives your finances a system of internal controls to help you implement the best accounting practices and policies.
Click here to view the entire AccountingDepartment.com team.
---
Accounting For Excellence
At AccountingDepartment.com, we have the highest hiring standards to provide you with a viritual accounting team that has passed the strictest recruiting criteria. Only 3% of U.S.-only applicants qualify, ensuring you have a dedicated, trustworthy team proven to exceed expectations.
Accounting For Excellence
---
Co-Founders
Meet the co-founders of AccountingDepartment.com, Dennis Najjar and Bill Gerber. Their collective passion for creating the ultimate virtual accounting service in the industry is backed by years of financial field experience.
Meet The Co-Founders
---
Controllers
Our financial controller team consists of accounting professionals with background experience that spans a wide variety of industries. They are adept in daily bookkeeping, development, delivery and enhanced financial reporting in both the public and private sectors.
Meet The Controllers
---
Implementation Team
Members of AccountingDepartment.com's implementation team are masters of online accounting systems like QuickBooks. They have years of experience with small and midsized company's bookkeeping and payroll across many industries.
Meet The Implementation Team
---
Map
Check out our interactive map to view the location of AccountingDepartment.com's U.S.-based virtual accounting team. Get to know the bookkeepers, financial controllers and implementation team members in your time zone.
View Map
---
Communication
Learn how the virtual accounting time at AccountingDepartment.com maintains easy, timely communication with their clients to assist them with all of their online accounting needs.
Learn More
---
Ready to revamp your current accouting practices and get the full-circle virtual accounting treatment our services offer? Over and above, AccountingDepartment.com is the industry leader in helping you achieve your true profit potential.