It's important to obtain the right financial reports in order to continually make adjustments and better decisions for the future health of your business. However, the data is usually too complex to comprehend, making it difficult for anyone without accounting expertise to gain useful, actionable information.
With an AccountingDepartment.com Dashboard, AccountingDepartment.com delivers you the virtual accounting insight and analysis you need through easy-to-understand financial dashboards. These include graphical displays of your QuickBooks financial information that's accessible any time you need it. Your financial dashboard provides you with financial benchmarking through graphs and charts on accounts receivable, accounts payable, income statement and balance sheet metrics. It also makes sense of more complex budgeting and forecasting reports and ratios.
To manage your business, you need relevant financial data that's delivered in real time. AccountingDepartment.com's financial dashboards are automatically updated daily to provide the most productive and effective QuickBooks technology to enhance your virtual accounting experience.
AccountingDepartment.com now offers you the following financial dashboard services:
Highest standards of design, ease-of-use and conformance with accounting standards

QuickBooks data is available through automated nightly exports

Provides great features and seamless integration with QuickBooks to increase efficiency and productivity

The expertise of the AccountingDepartment.com team along with AccountingDepartment.com business intelligence dashboards we can quickly and easily turn accounting information into business insight

AccountingDepartment.com Dashboard is viewable by unlimited users at no additional cost

Financial benchmarking, valuation and budgeting tools are included with this package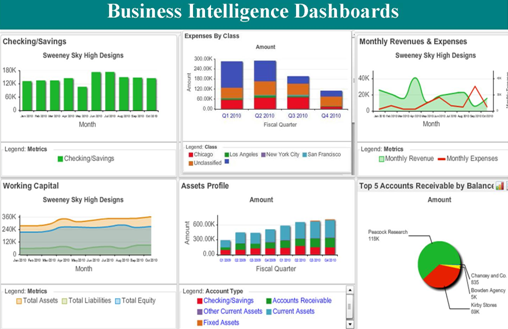 AccountingDepartment.com's financial dashboards give you the business intelligence you need to make sound decisions to secure a successful future for your business.